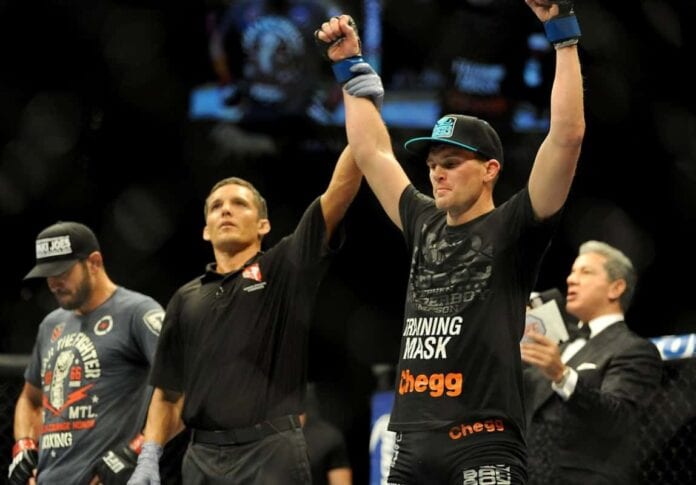 Stephen Thompson vs. Rory MacDonald:
Mike Drahota:
I've truly gone back and forth many times on this bout, and I still can't seem to come out with a clear-cut prediction because we'll legitimately witness one of the closest-matched welterweight bouts in UFC history tonight, at least on paper. There's no denying "Wonderboy's" momentum as of late, and his recent highlight reel knockouts of Johny Hendricks and Jake Ellenberger have him in the conversation of being the best striker in all of MMA. MacDonald is obviously a perennial elite-level contender, and nearly had the belt just last July. Questions remain from that fateful five-round war with champion Robbie Lawler, however, and MacDonald could come back hungrier or as a fighter with a piece missing.
Regardless, the only time anyone has had success against Thompson in the Octagon was in his second UFC bout against grinder Matt Brown in 2012, who neutralized "Wonderboy's" kicks and punches by out-wrestling him at a grueling pace. MacDonald certainly has the wrestling and grappling games to do that, but Thompson's takedown defense seems to have improved greatly since then. MacDonald had brutally damaging strikes in close against Lawler, and if he can close the distance on Thompson to nullify his flashy kicks and combos at range, the bout will turn in his favor. While that's wholly not an unlikely outcome, I do believe Thompson is on his way to a UFC title shot. He'll face adversity against MacDonald, but ultimately I believe his unique, precise striking game will get him the win. "Wonderboy" wins a unanimous decision.
Rory Kernaghan:
There are many interesting questions surrounding tonight's main event, one that is perhaps most pertinent is how the brutal war against Robbie Lawler has changed Rory MacDonald. Also, will Stephen Thompson be able to use his flashy techniques against a fellow technical artist? It's a tough one to call in many respects, but if MacDonald is on point, which I fully expect him to be, I don't think 'Wonderboy' will have the space to pull off his wonderful kicking displays. Look for the Canadian MacDonald to close the gap straight away, and utilize his hard elbows in the clinch. Much like we saw at UFC 189, 'The Canadian Psycho' has wonderfully precise clinch work, and very nearly finished 'Ruthless' on a number of occasions. He also has the advantage on the ground in my mind, making his array of options far more significant than that of Thompson's. Submission for MacDonald in round three. Bank it.
Mike Henken:
I'm a huge fan of this fight, as it truly pits the top two fighters in a division aside from the champion against one another. Stylistically, this fight is relatively easy to break down, in my opinion. MacDonald will hold the wrestling and grappling advantage while Thompson will hold the striking advantage. The key factor here, however, is "Wonderboy's" improved takedown defense, and his highly superior striking. It's also hard to tell how MacDonald will look coming off of a five-round war with the champion. I see "Wonderboy" keeping it on the feet, and using his exquisite movement, and unorthodox angles to get the job done. Thompson by third round TKO.
Donald Cerrone vs. Patrick Cote:
Mike Drahota:
UFC Ottawa's co-main event is also an interesting one, as it's obviously No. 4-ranked Cerrone who brings the heat and fanfare as a popular fighter only six months removed from a title shot. But Cote has been quietly effective as of late as well, and his only recent loss was to headliner Stephen Thompson. "The Predator" has won six out of his last seven in a late-career resurgence, and after for contending for the UFC title at middleweight and fighting at light heavyweight, he should have a noticeable size advantage on usual lightweight Cerrone. While "Cowboy" will be the faster man and the more technical fighter on the ground, he may be biting off more than he can chew here. I'm going against the grain. and picking Cote by second round TKO.
Rory Kernaghan:
Donald Cerrone is taking on Patrick Cote in a welterweight tilt for the evening's co-main event, and this was a relatively easy pick for me. 'The Predator' has some good power and has looked vastly improved in wins over Ben Saunders and Josh Burkman, but the difference in class between those opponents and 'Cowboy' is clear. I think Cerrone goes to the leg kicks for the duration of this bout, mixing it up nicely with his Muay Thai striking arsenal to the head and gut, and truthfully I don't think there will be much coming in return. It's not exactly a technical pick, I feel Cerrone will bludgeon Cote for three rounds and take home a unanimous decision.  
Mike Henken:

Cote will obviously have the size advantage here, but I'm not sure how big of a factor that will be, as I simply feel as if Cerrone is the better fighter. Cote will likely look to use his clinch game and wrestling skills to overpower "Cowboy", but I feel as if Cerrone's underrated ground game, speed, and conditioning will lead him to victory. Cerrone by second round submission.