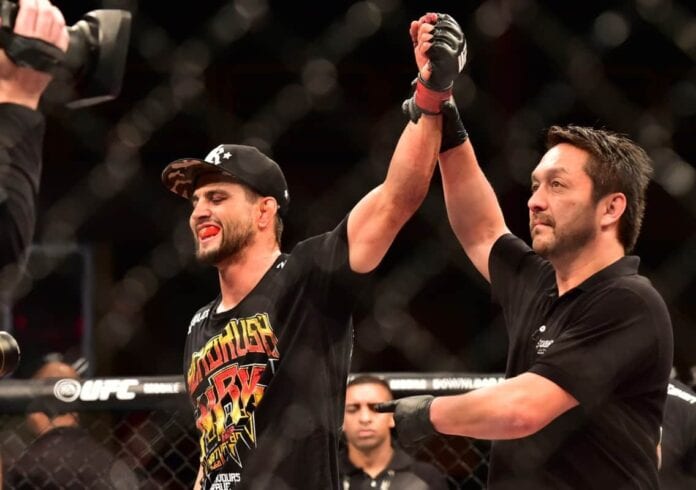 The UFC is back this weekend (Sat., August 27, 2016) with UFC on FOX 21 from the Rogers Arena in Vancouver, and the main event features a crucial welterweight contest with serious title implications in one of the UFC's most packed divisions.
In the co-main event, former lightweight champion Anthony Pettis will look to turn around a disappointing three-fight win streak against dangerous contender Charles Oliveira, and women's strawweight sensation Paige VanZant will also look to get back on track against Bec Rawlings in her first fight since a vicious submission loss to Rose Namajunas last December.
It may not have the all-out star power and hype of last weekend's UFC 202, but overall, UFC on FOX 21 presents some pivotal moments in the careers of a few major MMA stars.
Who did we pick to win in Vancouver? Find out right here.
Demian Maia vs. Carlos Condit:
Mike Drahota:
Maia has been on a tear as of late, and a lot of that is because he's added a well-round wrestling arsenal to arguably the best pure Brazilian jiu-jitsu pedigree in all of MMA. It's also no secret that Condit's weakness has been takedown defense, so I think Maia will have his moments where he definitely drags "The Natural Born Killer" to the ground and smothers him.
But this fight getting switched from three rounds to a five-round main event favors Condit in a big way, as Maia has shown a tendency to gas late in fights while Condit has the toughness, tenacity, and durability to get stronger as the bout wears on. It's kind of now or never for both men in the packed welterweight division here; Condit has talked about retirement following his title loss to Robbie Lawler, and Maia has already fought unsuccessfully for the middleweight title.
This is going to be a close fight. I feel that Condit will win, if no other reason but for that he simply has to in order to stay in the upper echelon of the 170-pound fray. Carlos Condit by decision.
Rory Kernaghan:
Condit has come so close to having the undisputed title wrapped around his waist in the past, but in Maia, he faces a very tough stylistic match-up. If he's able to overcome the intense and dominant Brazilian jiu-jitsu game of Maia, then another crack at title glory is almost certain. The difference here will clearly hinge on who is able to keep the fight in their preferred area. On the ground I can't see Condit winning, but equally if it stays on the feet I'd bet the farm on 'The Natural Born Killer.' My gut picks have served me well lately, and in this instance I just feel Condit is coming in more motivated than ever before. I'm picking Carlos Condit for the brutal first round TKO.
Mike Henken:
Since dropping down to welterweight, Maia has certainly looked like a force. His striking has steadily improved over time, and his ground game has always been amongst the best in MMA. With that being said, I don't see him scoring a victory in this one. In my opinion, Condit simply has more ways to win. His striking is diverse and lethal, his conditioning is always on point, and his ground game has always been solid, although likely below the level of Maia. I'll go with Condit by fourth round TKO.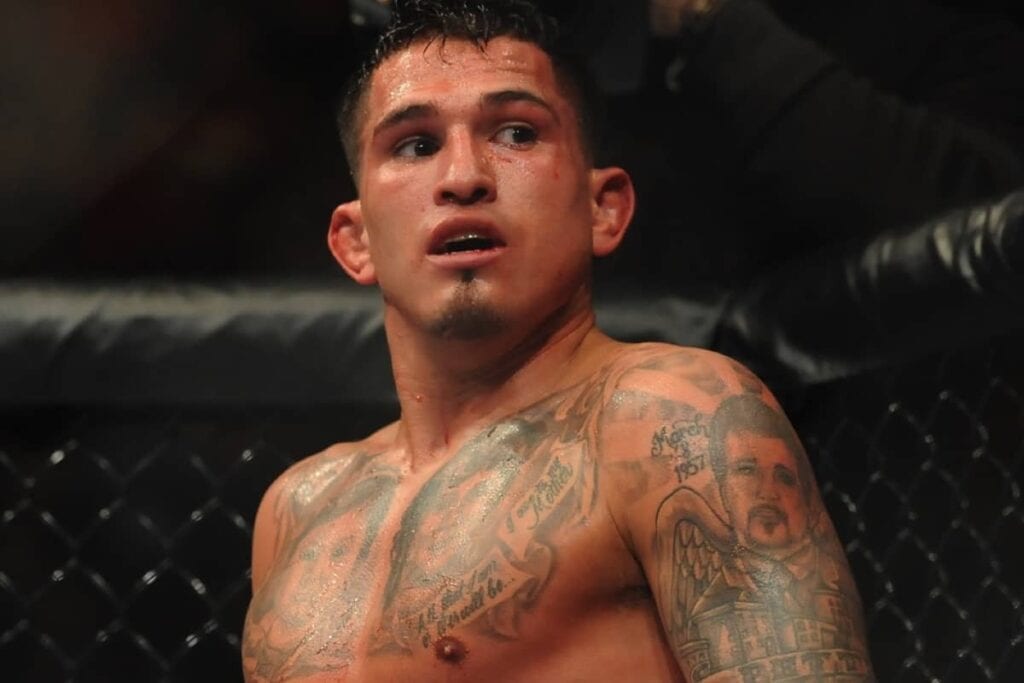 Anthony Pettis vs. Charles Oliveira:
Mike Drahota:
Pettis absolutely has his back up against the wall in a big way here, and he has looked nothing less than drawn and dehydrated from his cut down to 145 pounds during recent media sessions. Oliveira is far from a gimme fight for his featherweight debut as well, as "Do Bronx" has been nothing but a spectacular finishing machine outside of his freak loss to Max Holloway due to injury.
Although Oliveira has some underrated Muay Thai, he should only use that as a entry before looking to take 'Showtime' down and ensnare him in one of his many exotic submission holds; his guillotine will be one Pettis especially has to be careful for. But if Pettis can rehydrate effectively and show up to the Octagon the bigger man at fight time, he may be able to find the space he needs to unleash his flashy finishing combos on Oliveira.
Another very close fight to pick, but I have to go with Pettis by decision.
Rory Kernaghan:
Pettis dropping to featherweight to face Oliveira is an intriguing fight. Although 'Do Bronx' has some slick ground attacks, he's not the strong takedown-based wrestler that Pettis has been troubled by in the past. Add in that 'Showtime' has dealt with much bigger and stronger opponents in the past, and also that his stand-up is lethal when on point. I can't see Oliveira holding down Pettis for any length of time, and in the striking I feel he is second best compared to 'Showtime.' Look for an impressive 145-pound debut, as Pettis kicks his way to a decision win.
Mike Henken:
Pettis, the former lightweight champion, has undoubtedly hit some rough times as of late, but I feel as if he'll appear rejuvenated in his debut at 145 pounds. "Showtime" has long been one of the most exciting strikers in MMA, and his submission game is strong as well. Oliveira is a wizard on the ground and his Muay Thai is also lethal, but I'm going with Pettis by unanimous decision.
Paige VanZant vs. Bec Rawlings:
Mike Drahota:
In the third main card bout featuring a name fighter with much to prove, VanZant will look to resume her climb up the women's strawweight ranks after a one-sided loss to Namajunas and a stint on ABC's "Dancing With The Stars." At times VanZant has looked sloppy and unrefined in the cage, and her overall toughness keeps her in bouts when her technical ability has long failed her.
The same could be said for Rawlings, who, despite some inspiring performances in her recent bouts, has not looked like the elite contender that "Thug" was, leading me to believe that this is viewed as simply a rebound fight for VanZant. I don't think it is, however, and but I do think Rawlings will give "12 Gauge" a run. Ultimately, I believe VanZant will weather the storm and prove that she belongs in the Top 10. If not, she could have a long climb back up ahead of her. VanZant by decision.
Rory Kernaghan:
VanZant and Rawlings will throw down in what will likely be an intense war. '12 Gauge' has proved to be a popular fighter, very marketable, but has suffered a few losses when things get gritty. In 'Rowdy' Rawlings, VanZant will face a fighter who loves those brutal wars. This fight is a bit of a coin toss in my opinion, and the tail of the tape doesn't give much in either direction. I like VanZant's grappling attacks, and the fact Rawlings is not exactly a KO power striker helps '12 Gauge's' case for victory. I'm picking VanZant for a third round submission win in her comeback after nine months off.
Mike Henken:
VanZant had her hype trained slowed in her last bout when she was dominated by top contender Namajunas, but I see her bouncing back against Rawlings with a convincing victory. '12 Gauge' has the toughness and skills to contend with and defeat most fringe contenders at strawweight, and Rawlings, although gritty in her own right, fits that bill. VanZant by unanimous decision.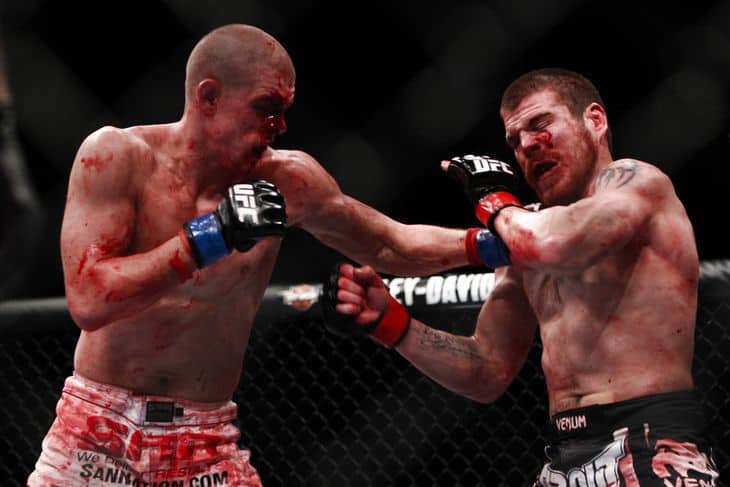 Joe Lauzon vs. Jim Miller:
Mike Drahota:
This rematch of their blood-splattered UFC 155 classic has, to sound cliché, all the makings of "Fight of the Night" at UFC on FOX 21. And for good reason, as both Lauzon and Miller looked absolutely stellar in their respective UFC 200 starchings of Diego Sanchez and Takanori Gomi, arguably the two most exciting bouts on the ballyhooed card which were buried on the Fight Pass prelims. Both veterans will need a win to stay afloat in the stacked lightweight arena, however, and despite Miller winning the first bout handily, I believe Lauzon simply has more in the tank at this point. I expect a war on the feet and the canvas, and I think Lauzon gets it done by third round TKO.
Rory Kernaghan:
I really like Lauzon's chances in this fight. He looked like a beast against Diego Sanchez, and has a physical advantage over Miller. Perhaps Miller's best chance would be to make this a gritty war, but Lauzon's ground game is very tight, making this a bit of a catch 22 for him. Not a tough pick, I'm calling for Lauzon to put Miller out with a head kick later on. Call it round three TKO for Lauzon.
Mike Henken:
The first time these two lightweight veterans met it was an absolute war and like many others, I think it's very possible the two will put on yet another "Fight of the Night" performance. I simply feel as if "J-Lau" has looked better as of late, so I'll take Lauzon by unanimous decision.