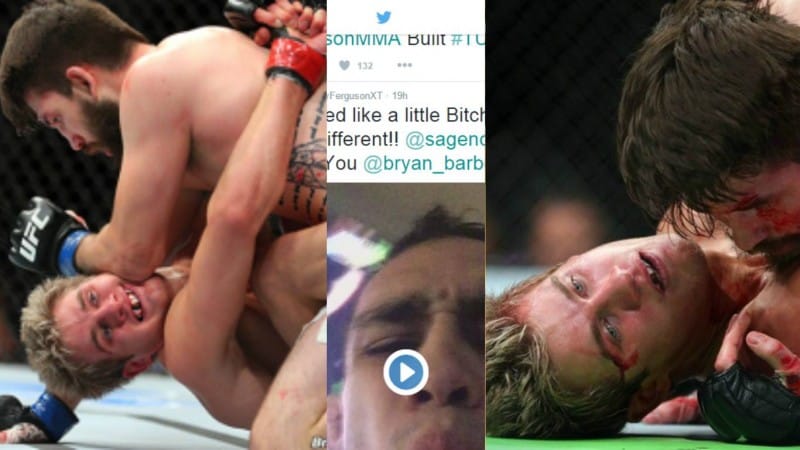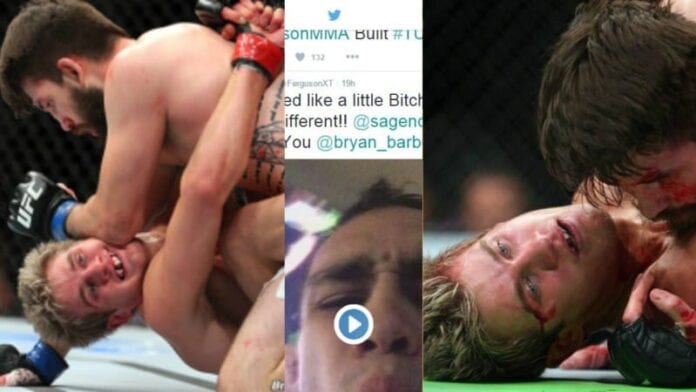 Heavily hyped UFC prospect Sage Northcutt suffered his first loss at last night's (Saturday, January 30, 2015) UFC on FOX 18 from the Prudential Center in Newark, New Jersey, tapping out to a Bryan Barberena arm triangle choke that many felt just wasn't that tight.
And while the flashy, good-looking, and marketable Northcutt's fans have rushed to defend the up-and-coming young fighter, his fellow MMA fighters haven't been so kind. After receiving a large amount of heat for making way more money than the average UFC competitor, it seems as if fighters rejoiced in 'Super Sage's' first loss.
Hop to the next page to find out their brutal reactions to the odd tapout….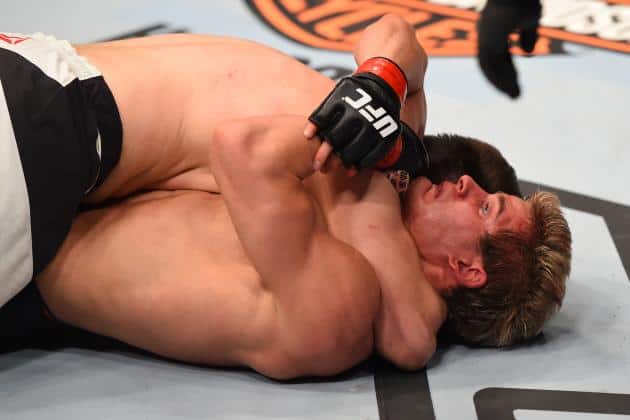 Perhaps the most brutal reaction came from UFC lightweight Tony Ferguson, who said Northcutt 'tapped like a little bitch' on Twitter before stating all of the UFC's hype train would fall and lashing back at fans who criticized him for being harsh:
Woo!!! Tapped like a little Bitch & Tried to tel the Ref Different!! @sagenorthcutt VonFlu/Got You @bryan_barberena pic.twitter.com/xO4jNshOtq

— Tony Ferguson (@TonyFergusonXT) January 31, 2016
2016 All The Hype Trains Are Going To Derail | #DanasAngels Falling One by One | 2016 #YearOfTheCucuy #Road2Gold #TonyFergusonMMA Built #TUF

— Tony Ferguson (@TonyFergusonXT) January 31, 2016
I didn't know this was the Pee-Wee's… You fans need to quit being so damn sensitive. This is the @UFC #SignUpforEverything #TUFenUP

— Tony Ferguson (@TonyFergusonXT) January 31, 2016
UFC vet Brad 'One Punch' Pickett, who's respected for his toughness and willingness to throw down in a brawl, also poked fun at Northcutt's quick submission:
How do you tap from a arm triangle from half- guard ??#hypetrain

— Brad Pickett (@One_Punch) January 31, 2016
Former Strikeforce champion Josh Thomson chimed in with a more cryptic message, saying that not everyone's cut out to be a fighter:
Not everyone has what it takes to be a fighter. That's not a dig on anyone, that's a fact!

— Josh Thomson (@THEREALPUNK) January 31, 2016
Next up was The Ultimate Fighter (TUF) alum Ramsey Nijem, who's had some beef with UFC brass. Nijem called Northcutt 'a joke,' believing that he tapped out to the mere setup for the choke:
Lol what a joke @sagenorthcutt tapped out to a choke set up #whitebelt

— Ramsey Nijem (@RamseyNijem) January 31, 2016
Never one to let his feelings go unspoken, ONE Championship welterweight champion Ben Askren not surprisingly called Northcutt's tap embarrassing, stating that he would retires his gloves effective immediately if it happened to him:
Can I say it was a weak tap??? Just freaking embarrassing, I'd retire my gloves effective immediately. https://t.co/XjwgUStXSA

— Ben Askren (@Benaskren) January 31, 2016
And Brendan Schaub, who was recently banned from 'UFC Now' for his controversial comments about Dana White, spoke up with the stance that Northcutt simply gave up, as he wasn't even in a choke:
I love Sage and he has a huge future but that wasn't a choke. I call that giving up sorry kids #UFConFOX18

— Brendan Schaub (@BrendanSchaub) January 31, 2016
UFC lightweight James Vick had a brutal take on the situation, calling Northcutt a 'pussy,' Barberena a 'bum' and Northcutt's effort 'pathetic':
Omg what a pussy!!! Dude gave up. No heart. Ufc give me his 40/40 next time cause no fucking way I would get finished with that shit! Lol

— James Vick (@JamesVickMMA) January 31, 2016
Barberena is a bum. That was pathetic.

— James Vick (@JamesVickMMA) January 31, 2016
Longtime MMA competitor Jens Pulver had his own sarcastic take on the fight, noting that Northcutt exhibited 'a ton of heart':
Showed a ton of heart fighting out of that sub…..worth every penny.

— Jens Pulver (@jens_pulver) January 31, 2016
Finally, American Top Team (ATT) coach and UFC vet Din Thomas noted that Northcutt simply didn't know what it was like to be in the cage with a fighter from a top gym:
Sage got exposed. He never faced a guy from a top gym. Elite coaches ALWAYS find the hole. @TheMMALAB @Firas_Zahabi @JacksonWinkMMA

— Din Thomas (@DinThomas) January 31, 2016