UFC Fight Night 83 Predictions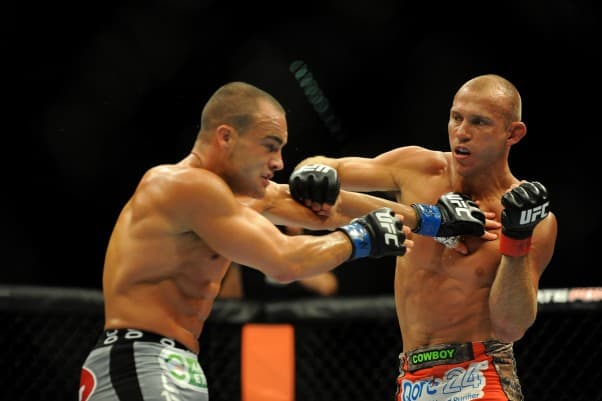 Donald Cerrone vs. Alex Oliveira:
Mike Drahota:
The move up to welterweight was kind of an obvious decision for Cerrone after his brutal one-sided loss to Rafael dos Anjos, but I'm not so sure that the murderer's row of top contenders at 170 will make it any easier on him. However, here he gets another usual lightweight in late replacement 'Cowboy' Oliveira, so this fight should be a solid bounce-back spot for him. Oliveira has strong punching power, pressure, and submissions in addition to some unorthodox takedowns, and he also exhibits Cerrone's anyone-at-anytime mentality. However, he lacks the world-class experience of his American "Cowboy" counterpart, and because of that I have to go with Cerrone by round two TKO here.
Rory Kernaghan:
Cowboy vs. Cowboy is the fight that will see Cerrone fight for the first time since being dominated by dos Anjos for the second time. The Jackson's MMA contender is essentially one half of a big squash match this weekend against Oliveira, but with Tim Means failing a drug test there clearly weren't many other options. Where this fight takes place is really up to Cerrone, as I feel he has the drop on Oliveira in the technical striking and submission game. Of course Oliveira has some nice knockout power, but with Cerrone looking to rebound and potentially even more motivated than before, I can't see this being a major factor in the big picture. I'm picking Cerrone to put on an angry performance, and score a classic head kick finish in round two.
Mike Henken:
While "Cowboy" Cerrone may be undersized compared to the welterweight elite, he'll be taking on a fellow usual lightweight in this bout in Oliveira despite the fight taking place at 170 pounds. Oliveira is 3-1 in the UFC thus far, but he's undoubtedly facing off with his toughest test to date in Cerrone. Cerrone is coming off of a brutal 66-second loss to lightweight champion Rafael dos Anjos, but has won eight of his last night. At the end of the day I simply feel as if he is the far superior fighter, and it will show. Cerrone by third round submission.
Derek Brunson vs. Roan Carneiro:
Mike Drahota:
I feel this bout is a bit of an under-the-radar co-main event for a FOX Sports 1 card, as both Brunson and Carneiro have quietly put together some solid win streaks in one of the UFC's most dangerous divisions. Brunson has looked like a man possessed since his last defeat, a come-from-behind TKO loss to top-ranked Yoel Romero in January 2014. Carneiro is no doubt a dangerous force on the ground, but as a former welterweight, I think Brunson will be too big, strong, and aggressive a challenge to manhandle on the ground. Keeping it standing, I predict Brunson finishes it by second round TKO.
Rory Kernaghan:
Roan Carneiro and Derek Brunson represent two fighters with a ton of potential. In the co-main event slot of the evening, each man has a chance to make his name known, and at a crucial time with the middleweight rankings wide open for the taking. The Jackson's MMA-trained Brunson is the power striker and Carneiro is just a monster grappler. After seeing the way 'Jucao' sent Mark Munoz in to retirement and how Brunson has been smashing jaws left and right, this really is a gut call. I think it'll be tough to get the muscular and well rounded Brunson to the mat, and for that reason I think we'll see another first round knockout for Brunson.
Mike Henken:
Brunson has been a force to be reckoned with as of late, winning three consecutive bouts with two coming by way of stoppage. His opponent Carneiro, is no easy task, however, as he's a third degree black belt in Brazilian Jiu-Jitsu with 10 submission wins on his resume. Also a winner of six straight, the Brazilian has been rolling, and I expect him to take this fight to the mat before finishing it. Carneiro by second round submission.