UFC Fight Night 79 Predictions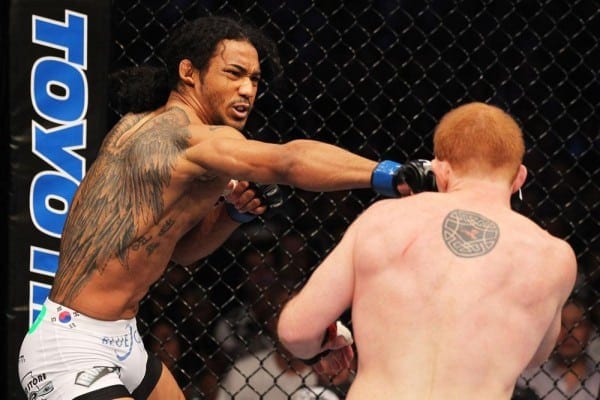 Benson Henderson vs. Jorge Masvidal:
Mike Drahota:
This replacement main event in Seoul, which came about after Thiago Alves was forced out due to injury, definitely has some potential for the UFC's first South Korean show. Henderson looked more than solid in his first-ever welterweight fight, a submission win over Brandon Thatch in February, and the lessened weight cut could certainly benefit him going forward. As another former lightweight, Masvidal has also looked great reinvented at 170 pounds, specifically in his knockout win over Cezar Ferreira. While former 155-pound champion "Smooth" may have solid striking of his own, there's not much need for him to play into the hands of "Gamebred's" ultra-smooth stand-up skills. Expect Henderson to take this fight to the ground early. Due to that, I have to pick Henderson via second round submission.
Rory Kernaghan:
Benson Henderson not only looked great in his victory against Brandon Thatch in his welterweight debut, but he's now starting to look the right size for the division too. The problem he faces in Jorge Masvidal is a highly technical striker who isn't afraid to brawl hard too. I like Masvidal on the feet if I'm honest, but I don't think 'Smooth' will try to stand and bang. We'll see some deep takedown shots from 'Bendo,' and if timed right he'll be slamming 'Gamebred' around like a rag doll. Henderson by submission round 3.
Mike Henken:
Jorge Masvidal may be somewhat underrated; as he's actually a very tough task at 170-pounds and will most likely have the size advantage over the former lightweight boss in Benson Henderson. Masvidal has shown solid takedown defense, while also proving that he has the ability to pick people apart on the feet. I wouldn't be surprised if he pulls off the upset here, but I see the experience of Henderson getting the job done. I expect "Smooth" to use his tricky striking background to neutralize the attack of "Gamebred" before dragging a tired Masvidal to the mat and scoring a late finish. Henderson by fourth round submission.
Dong Hyun Kim vs. Dominic Waters:
Mike Drahota:
Possessing five wins in his last six fights, Kim receives a step down in competition in the lesser-known Waters after original opponent Masvidal moved to the main event. "Stun Gun" has usually faced an incredibly high level of talent in the UFC's stacked welterweight division as of late, and while he's won against the lesser of those and gotten destroyed by the top names, Waters is not on that level despite being a decent prospect. A massive -750 favorite, I have to pick a dominant submission win for Dong here.
Rory Kernaghan:
I like the underdog in the co-main event between Dong Hyun Kim and Dominic Waters, but that doesn't mean he'll have a snowballs chance in hell against the much more experienced 'Stun Gun.' I think Dong will try and penetrate Waters' stance with long kicks, and will need to stay active to avoid getting caught in the gameplan of the Jackson-Wink product. I feel he may lack in the power department against Waters, but the experience and technical knowledge is there. I see Kim taking a split decision here, but don't be surprised by an upset.
Mike Henken:
I see this fight being a massive mismatch. Waters has shown solid wrestling skills, but I expect Kim to fully outclass him here. Kim is an explosive fighter with strong clinch skills, and clear finishing ability. I don't see this fight lasting too long. Kim by first round TKO.