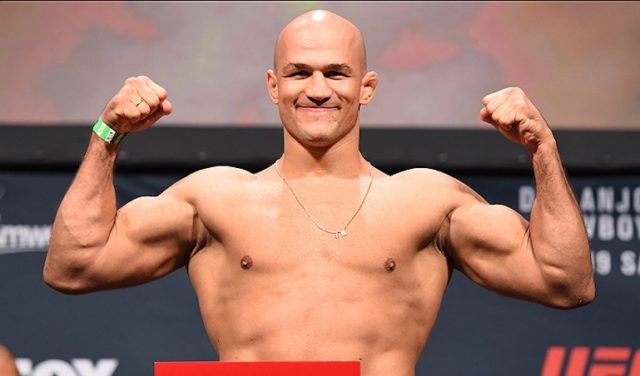 UFC Boise (UFC Fight Night 133) is set to take place on Saturday, July 14, 2018 at CenturyLink Arena in Boise, Idaho.
The main card will air on FOX Sports 1 at 10 p.m. ET while the preliminary card will be split broadcasted on FOX Sports 1 at 8 p.m. ET and the promotion's streaming service, UFC Fight Pass, at 6:30 p.m. ET.
Junior dos Santos vs. Blagoy Ivanov in a heavyweight bout will serve as the main event while Zak Ottow vs. Sage Northcutt in a welterweight bout will serve as the co-main event.
Rounding out the six bout main card is Dennis Bermudez vs. Rick Glenn in a featherweight bout, Randy Brown vs. Niko Price in a welterweight bout, Chad Mendes vs. Myles Jury in a featherweight bout and Cat Zingano vs. Marion Reneau in a female bantamweight bout.
Eddie Wineland vs. Alejandro Perez in a bantamweight bout will serve as the main event of the preliminary portion of this card.
UFC officials held the weigh-ins for UFC Boise on Friday morning and here are the weigh-in results:
MAIN CARD (10 p.m. ET, FS1)
Junior Dos Santos (247.5) vs. Blagoy Ivanov (257.5)
Sage Northcutt (170) vs. Zak Ottow (171)
Dennis Bermudez (146) vs. Rick Glenn (146)
Randy Brown (171) vs. Niko Price (170)
Myles Jury (146) vs. Chad Mendes (146)
Marion Reneau (136) vs. Cat Zingano (136)
PRELIMINARY CARD (8 p.m. ET, FS1)
Alejandro Perez (136) vs. Eddie Wineland (136)
Darren Elkins (145) vs. Alex Volkanovski (145.5)
Said Nurmagomedov (126) vs. Justin Scoggins (125.5)
Raoni Barcelos (145.5) vs. Kurt Holobaugh (145)
PRELIMINARY CARD (6:30 p.m. ET, UFC Fight Pass)
Liz Carmouche (126) vs. Jennifer Maia (126)
Mark De La Rosa (125) vs. Elias Garcia (125)
Jessica Aguilar (115.5) vs. Jodie Esquibel (116)