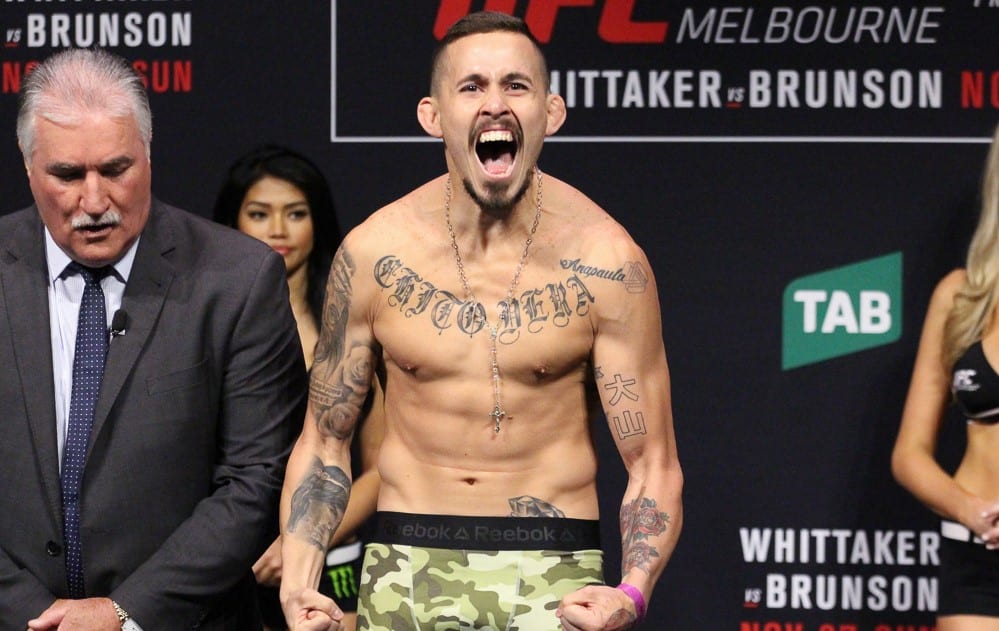 The Octagon touches down in South America for Saturday (Nov. 17, 2018) night's UFC Argentina. LowkickMMA has you covered with all the up-to-the-minute results.
UFC Fight Night 140, better known as UFC Argentina, offers 12 fights in total to take place at the Luna Park arena in Buenos Aires. This event will be live on Fox Sports 1 if you choose to tune in.
Before Argentina's own Santiago Ponzinibbio makes his way to the Octagon to fight Neil Magny in the evening's main event, eight other fighters make the walk to the cage.
A feature bantamweight fight will keep the main card rolling as Marlon Vera takes on Argentina's own Guido Cannetti in an exciting contest.
Vera (13-5-1) has won four of his last six fights. He most recently defeated Wuliji Buren at UFC 227 back in August of this year. A win for Vera would take this 25-year-old one step closer to a title shot.
His opponent, Cannetti (8-3) is another local fighter from Argentina. He has gone 1-1 in 2018 and if he beats Vera he will have his first winning record for a calendar year since 2013.
Round One
Cannetti opens up with a leg kick. Vera clinches but eats a couple of big knees straight up the middle from Cannetti. Vera gets the fight to the ground but Cannetti pops right up. Cannetti lands a hard right hand that sends Vera reeling. He falls to the ground and Cannetti follows.
The Argentinian goes for a kimura but Vera defends. The fight gets back to the feet. Cannetti moves forward with no fear and lands another hard right hand. The fight slows down a bit midway through round one. Cannetti lands an outside trip and ends up in the full guard of Vera. Cannetti is trying to posture up but Vera is doing a good job at minimizing the damage. Cannetti stands up and kicks Vera a few times to end the round.
Round Two
The second round starts with Vera moving forward and landing a hard kick. He throws a flying knee and lands it again. Cannetti falls to the canvas. Vera is all over Cannetti. He slams his elbow into Cannetti's face. Cannetti gives Vera his neck. Vera locks in the RNC. It's a wrap.
Marlon Vera defeats Guido Cannetti via submission at 1:31 of round two