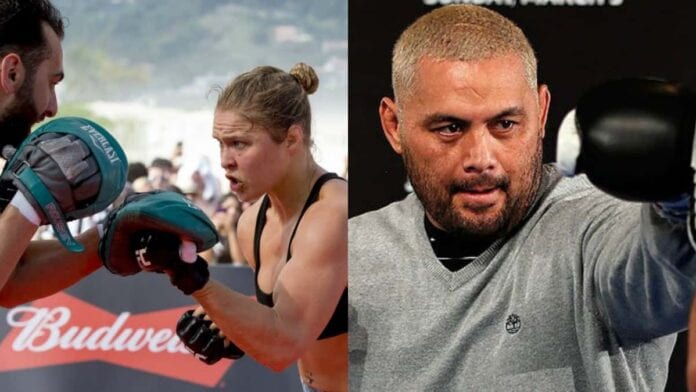 Check out all the full UFC 193 open workout videos including Ronda Rousey, Mark Hunt & Joanna Jedrzejczyk right here, courtesy of our good pals in Australia. 
UFC 193 is just days away, as the promotion looks to light up the sunny shores of Melbourne, Australia with an action packed night of fights on Saturday November 14. Headlining the star studded card is the women's bantamweight title fight between dominant champion Ronda Rousey and ex-boxing boss Holly Holm. The evnt takes place at the 70,000 capacity Etihad Stadium.
Always fun to watch in her open workouts, Ronda Rousey is as athletic and exciting to watch as ever as she prepares to take on 'The Preacher's Daughter' this weekend. will it be another squash match with 'Rowdy' emerging victorious quicker than the time it takes to make a coffee? It's quite possible and, if her form at UFC 190 is anything to go by, this fight may well stay standing.
Check out the undisputed queen of the UFC work the pads and showcase her illustrious grappling skills, courtesy of our good friends over at Submission Radio Aus, who will be providing some great coverage of the event in Melbourne, their home soil, at UFC 193.

Page 2 is the Joanna Jedrzejczyk open workouts video…