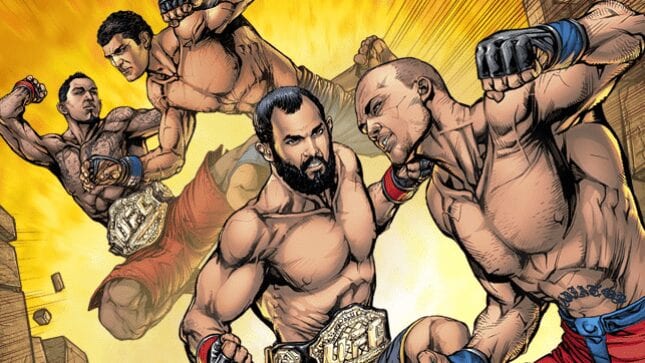 Join us here at LowKickMMA.com at 7 PM ET for the UFC 181 live prelims card results….
UFC 181 goes down tonight (December 6th, 2014) with two monster title fights on the main card. Headlining the evening's preliminary festivities is a preliminary card headlined by former WEC featherweight champion and fan favorite Urijah Faber. "The California Kid" returns to take on 10-3 bantamweight Francisco Rivera.
Good opening round for Faber as he uses footwork and head movement to avoid getting tagged by Rivera's power. "TCK" wins the round but eats two nice shots at the end. Round two, and Faber hurts Rivera with a punch to the eye. He goes down, and "The California Kid" taps him with the second bully choke of the night. No more bum of the month for Faber surely…
TUF veteran Eddie "Truck" Gordon is up against fellow Ultimate Fighter alum Josh Samman at middleweight, and these guys certainly came to fight. Gordon has serious power in his hands, but it's Samman who rocks him in round one with a barrage of kicks. Gordon looks tired after a grappling exchange in round two, and Samman clocks him with a head kick. "Truck" is out cold. Great finish
Corey Anderson takes on Justin Jones at light-heavyweight, and it's Anderson who meant business tonight. He was quicker to the punch, and landed a wide array of hard shots in the stand up. Jones fought back well, but was outmatched by Anderson, who wins the unanimous decision.
Women's bantamweight's were on show, with Ashlee-Evans Smith facing  Raquel Pennington. And it's the underdog with the huge upset. Smith looked strong, opening up a big gash on her opponent, but Pennington gets the last-second bully choke and Smith is unconscious at the end of the opening round.
Younger brother of lightweight champion Anthony Pettis, Sergio, faced Mat Hobar next and BOOM, Hobar drops Pettis with the first punch! Well survived by "The Phenom" as he goes on to win the round. Pettis just opens up in round two, and Hobar is rocked. He survives but is beaten pretty solidly through round three. Pettis by UD
Opening the Fight Pass prelims card was Alex White vs Clay Collard at featherweight. What a brawl from the start, with Collard nearly getting a knockout and submission finish in round two. White rallied back in round three but it wasn't enough, Collard by UD.
See you tonight!
FOX Sports prelims 1 at 8 p.m. ET
Urijah Faber def. Francisco Rivera by submission (bully choke) round two
Josh Samman def. Eddie Gordon by KO (head kick) round one
Corey Anderson def. Justin Jones by unanimous decision
Raquel Pennington def. Ashlee Evans-Smith by technical submission (bully choke)

UFC Fight Pass prelims at 7 p.m. ET
Sergio Pettis def. Matt Hobar by unanimous decision
Clay Collard def. Alex White by unanimous decision
Follow @Rorylowkick

Follow @LowKick_MMA

Tweet