UFC 179: Glover Teixeira vs Phil Davis Fight Breakdown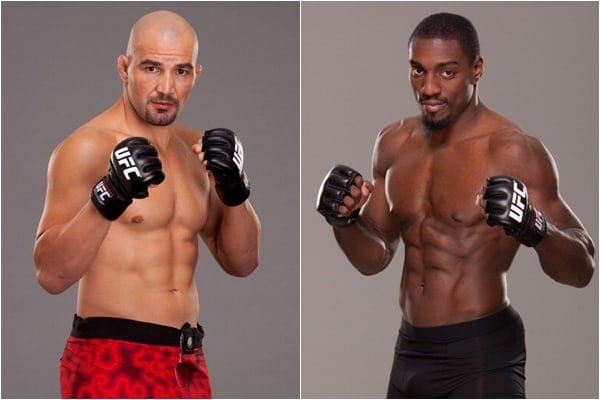 The co-main event for this weekend's festivities in Brazil; UFC 179 Glover Teixeira vs Phil Davis….
UFC 179 is set to go down in Brazil this Saturday (October 25th, 2014), headlined by the rematch of featherweight champion Jose Aldo and his number one rival Chad Mendes. Somewhat flying under the radar during the festivities in Rio are co-main competitors Glover Teixeira and Phil Davis. "Mr Wonderful" and "G-Tex" will do battle to stay around the top five of the dangerous division, after their recent decision losses.
Teixeira fell foul of Jon Jones during his UFC 172 title shot, and Davis got creamed over three by Anthony "Rumble" Johnson on the same Baltimore card. Without further ado, here is the LowKick UFC 179 Glover Teixeira vs Phil Davis fight breakdown:
Striking
Both guys were known primarily as grapplers when they began fighting, and the same can be said for Davis now; the NCAA division I wrestler has improved his striking game, but is nowhere near the level of the best at 205 pounds. Teixeira has evolved to become known as a knockout artist over the years, racking up 13 KOs from 22 wins, as opposed to Davis' 2 from 12.
Working with legendary banger and former light-heavyweight champion Chuck Liddel has clearly brought Teixeira's stand up game up, and I don't think Davis will want to trade with him on the feet. That being said, "Mr Wonderful" managed to see off the division's most tricky striker Lyoto Machida. Plenty of evidence to back my opinion up here; 60-40 for Teixeira
Wrestling
Phil Davis' top game is known for being smothering, and helped him on his way to a his biggest win to date; a submission over Alexander Gustafsson. Although "Mr Wonderful" has looked to try his improved striking out lately, I think the beatdown he got from "Rumble" might encourage him to go back to his wrestling roots.
Teixeira is no slouch with his TDD, but we did see Jon Jones land three of his six attempted at UFC 172, and "G-Tex" couldn't land any of his five attempted that night. Davis wants this fight on the mat, and for good reason. I'm calling it 60-40 Davis
Submissions
Although Davis has proved to be a very accomplished grappler over the years, and In 2009 he won the No Gi Grappling World Jiu-Jitsu Championship as a blue belt. His modified Kimura win against Tim Boetsch in 2010 won the 'MMA 247 submission of the year' award. Currently a purple belt in BJJ, Davis' sub game is very strong.
Then we have Glover; The Black House MMA/ATT/Pit  product is a second degree blac belt in BJJ, and Under submission wrestling rules, he grappled with well-known fighters Jeff Monson and Brandon Vera. He won the 2009 Brazilian ADCC trials in the under 99 kg division, and in the 2011 Brazilian ADCC trials he took second place.
In quite a hard category to call, with both guys mainly having a strong top game in submissions I have to call it 55-45 for Teixeira. Although Davis is more likely to find himself searching for submissions, Teixeira has the slight edge through experience and qualifications.
How do you think Glover Teixeira vs Phil Davis is going to go down? GT or "Mr Wonderful"?