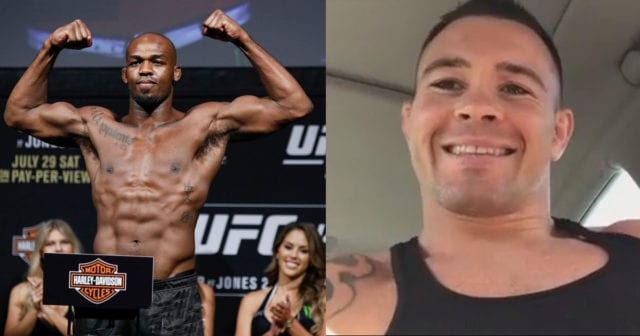 Colby Covington has rubbed plenty of fighters the wrong way – and not just in the welterweight division.
The interim 170-pound champ has had issues with fighters in the welterweight, light heavyweight and heavyweight divisions. One man Covington seemed to upset was former UFC light heavyweight champion Jon Jones.
Jones and Covington are former college roommates. The pair had some words for each other on social media after Jones showed support for Covington's UFC 225 opponent, Rafael dos Anjos, and offered $50,000 dollars to any fan who hit Covington with a boomerang at the event.
Covington wound up defeating RDA for the interim welterweight title and now has an inevitable meeting with undisputed champion Tyron Woodley to wait for. Woodley was on The MMA Hour and talked about some help Jones offered him recently.
Woodley revealed that Jones personally called him and offered his help for the training camp when the fight is announced (quotes via MMA Fighting):
"It funny because Jon doesn't reach out to me very much," Woodley said. "Jon said, 'Hey, whatever you need, brother. I want to help you.' I told Jon, I said, 'Man, you work so hard for your platform, from actually kicking ass and beating legends in their prime, and being one of the greatest fighters we've ever seen. Don't give him your platform.'

"Because he put a post up about him. I said, 'I am going to kick his ass so bad, he's gonna wish he was dead instead,'" Woodley continued. "'He's going to try to find a way out.' I said, 'So don't worry about it.' The dude was like, 'It can't happen soon enough.'"