Tyron Woodley hasn't fought in nearly a year, but now the UFC welterweight champion knows exactly when he wants to return to the Octagon.
"The Chosen One" captured 170-pound gold back in July of 2016 when he pulled off a stunning first round knockout over then-champion Robbie Lawler at UFC 201.
He successfully retained his title four months later after going to a Majority Draw against Stephen "Wonderboy" Thompson at UFC 205. In a rematch with Thompson at UFC 209 four months later, Woodley won a majority decision to retain the welterweight strap again. Woodley again fought four months later and successfully retained against Demian Maia via unanimous decision.
Woodley's latter two fights were viewed as boring by fans and extremely uneventful. In fact, after his fight with Maia it was announced that the bout broke the record for least punches thrown in a championship fight in UFC history.
A large part of this was due to a shoulder injury sustained by Woodley. He received surgery this past December to repair the issue. Now, in a recent interview on MMA Junkie Radio, Woodley reveals that he's ready to get back in the cage and wants on the UFC 227 pay-per-view (PPV) card in Los Angeles on August 4th:
"I'm projected to be back Aug. 4," Woodley said. "That's when I want to fight. I want to fight in L.A.

"I'm ready. I've been starting to go 100 percent on a lot of things," Woodley said. "Obviously I'm still doing rehab, still getting the strength back. But it's not restricting me from a lot."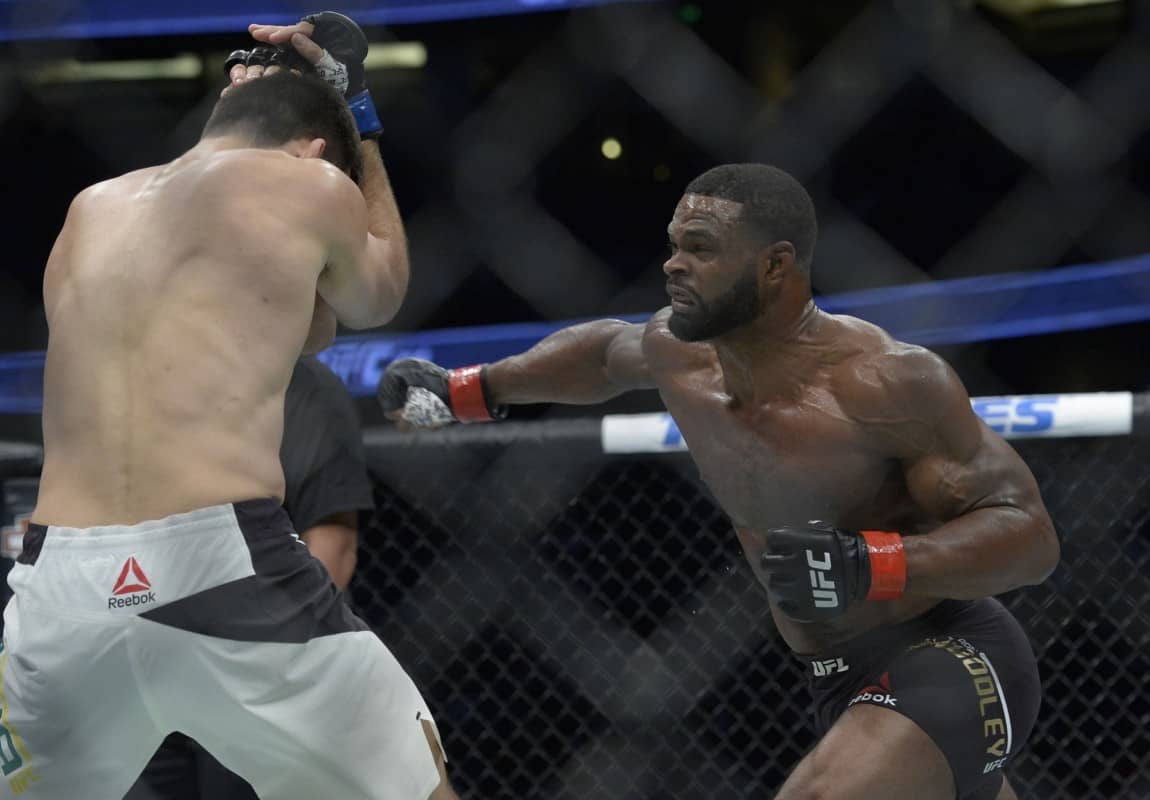 Woodley isn't too concerned with who his opponent for his next fight will be, but the welterweight champion believes he has earned the right to have a say in when and where he fights next:
"I'm not really concerned with who's ready, who's next," Woodley said. "You've got to realize there are certain rights you deserve as a champion. When I'm ready to fight, now it's time to fight. Whoever they got for me to fight at this time, come get this work. I don't want to sit back and say, 'Oh, I want to sit and wait to see what happens with this fight.' I'm the champion. I want to fight.

"Some of these bouts should've taken place anyway, maybe not with the label of interim title. But I think at that point, you make a fight. Even if it's somebody that's not currently in the division. Maybe it's Nate, maybe it's Georges. Maybe it's somebody else. But I'm also willing to fight all these other guys."
As to why Woodley isn't concerned with who his next opponent will be, The Chosen One plans to down each and every legitimate 170-pound contender in the division.
Whether it's Kamaru Usman, Darren Till, Rafael dos Anjos or Colby Covington – Woodley is prepared to beat them all before moving up to middleweight and taking that belt too:
"I kind of want to legitimately clean the division," Woodley said. "I wouldn't mind fighting RDA, Colby, Usman, Till, and at that point, unless another prospect emerges, I've cleaned out the division. And I'm the greatest weltereight of all time at that point. And then it's time to go up to 185, and I want that belt. …

"I want to finish off my division. When it's all said and done, I did everything I could do there. I want to go up and challenge myself once again, and I want to try to win the belt at '85 and defend there and pretty much retire as a middleweight."
Woodley's next opponent will likely be determined this weekend in the co-main event of UFC 225, as Rafael dos Anjos takes on Colby Covington for the interim welterweight championship.