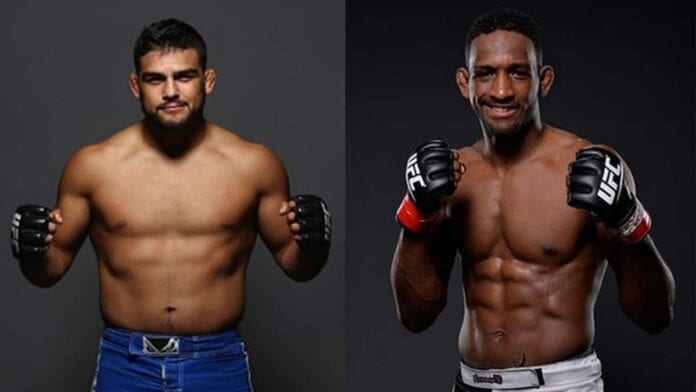 UFC officials have added two new bouts to the UFC Fight Night 78 card that completes the card just in time. The two new bouts are Enrique Barzola vs. Horacio Gutierrez in the "TUF: Latin America 2" lightweight final and Enrique Marin vs. Erick Montano in the "TUF: Latin America 2" welterweight final.
UFC Fight Night 78 takes place on Saturday, on November 21, 2015, at the Arena Monterrey in Monterrey, Mexico. The event will air on UFC Fight Pass and FOX Sports 1.
Kelvin Gastelum vs. Neil Magny will meet in the main event while Ricardo Lamas vs. Diego Sanchez meet in the co-main event. Also on this four bout main card is Efrain Escudero vs. Leandro Silva and Henry Cejudo vs. Jussier Formiga.
The prelims will begin at 6:45 p.m. ET on UFC Fight Pass with three bouts then they will switch over to FOX Sports 1 at 8 p.m. ET with four more bouts.
Here is the final card for the event:
MAIN CARD (FOX Sports 1, 10 p.m. ET)
Kelvin Gastelum vs. Neil Magny
Ricardo Lamas vs. Diego Sanchez
Efrain Escudero vs. Leandro Silva
Henry Cejudo vs. Jussier Formiga
PRELIMINARY CARD (FOX Sports 1, 8 p.m. ET)
Taylor Lapilus vs. Erik Perez
Bartosz Fabinski vs. Hector Urbina
Scott Jorgensen vs. Alejandro Perez
Gabriel Benitez vs. Andre Fili
PRELIMINARY CARD (UFC Fight Pass, 6:45 p.m. ET)
Valmir Lazaro vs. Michel Prazeres
Enrique Marin vs. Erick Montano – "TUF: Latin America 2" welterweight final

Enrique Barzola vs. Horacio Gutierrez – "TUF: Latin America 2" lightweight final
Alvaro Herrera vs. Vernon Ramos