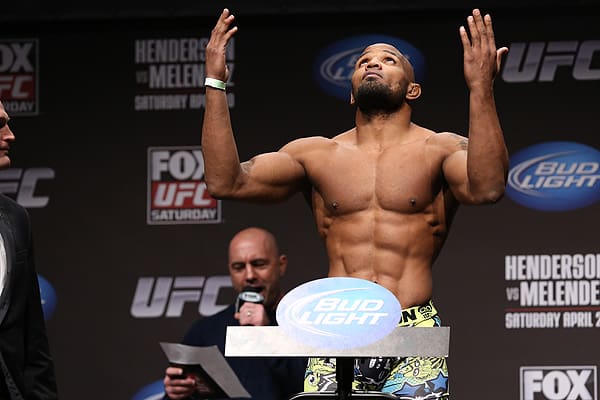 UFC Fight Night 70 was a success in Hollywood, California last night (Saturday June 25th, 2015) as we saw some seriously nasty finishes throughout the evening. Perhaps the most brutal was Yoel Romero's main event TKO over former light-heavyweight champion Lyoto Machida. The rising middleweight star bashed Machida to a gruesome finish, making his statement for a 185-pound title shot in the near future.
The ugly finish against 'The Dragon' was as clean cut as they come, but the bout wasn't without it's controversy. 'Soldier Of God' appeared to take a swipe at gay marriage in America, and the comments may have hit a nerve with the promotion, as they had clearly instructed Romero to clarify and dismiss the 'No-Gay Jesus' speech in the post fight press conference. It's becoming the norm for 'Soldier Of God' fights to be marred by controversy.
So let's see how Twitter reacted to Yoel Romero's KO against Lyoto Machida, and the allegedly anti-gay comments that followed:
When Yoel Romero says go down, you go. What an athlete. That is a career signature win. Dominican merengue stand up.

— Luke Thomas (@SBNLukeThomas) June 28, 2015
You can see the small cage helping Romero out. Machida finding himself trapped against the fence more than usual.

— Ben Fowlkes (@benfowlkesMMA) June 28, 2015
Romero wins via 3rd round TKO. Brutal GNP via elbows.

— Ariel Helwani (@arielhelwani) June 28, 2015
Yoel Romero is now Donald Trumps running mate.

— MMA Roasted (@MMARoasted) June 28, 2015
Your new Bellator middleweight champion, Yoel Romero

— Jeremy Botter (@jeremybotter) June 28, 2015
Why Romero why.

— Scott jorgensen (@Scottjorgensen) June 28, 2015
Alright, after going back and listening again, here's what I think Romero said. Obviously has a heavy accent. pic.twitter.com/kWzvJGnjcZ

— Marc Raimondi (@marc_raimondi) June 28, 2015
Romero has defeated the military & the gays in his last 2 fights wat does American have left? , next fight should be against the homeless

— superCalo (@superCalo) June 28, 2015
When #Romero spoke… America be like.. #UFCFlorida #UFC pic.twitter.com/N0YUnl5Pkm

— Scott Fishman (@smFISHMAN) June 28, 2015
Great job @JohnMcCarthyMMA making sure when you got in there @lyotomachidafw didn't receive anymore damage. Tough one to watch tho. @ufc

— Alan Jouban (@AlanJouban) June 28, 2015
Yoel Romero – "Go with Jesus, Not Gay Jesus" pic.twitter.com/XqEnmEWBa5

— UFC Insiders (@UFCInsiders) June 28, 2015
If you enjoyed this story, please share it on social media!