Twitter Reacts To Darren Till's Destruction Of Donald Cerrone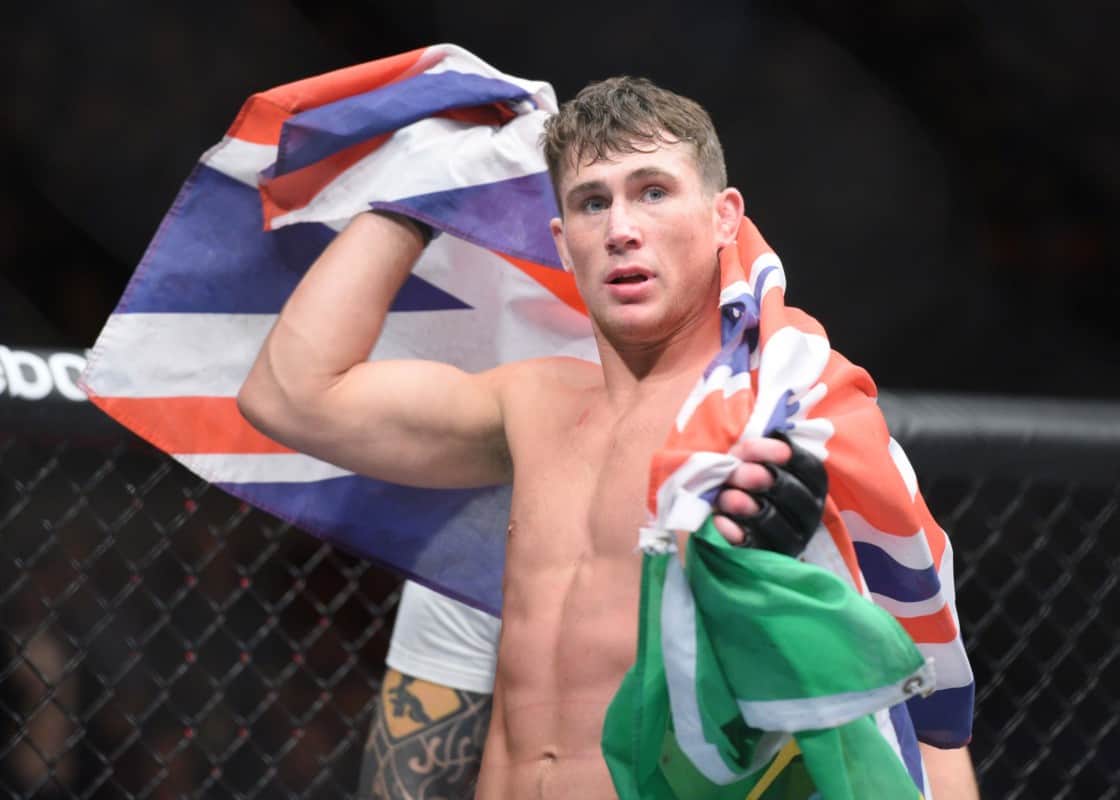 UFC Fight Night 118 went down today (Saturday, October 21, 2017) from the Ergo Arena in Gdansk, Poland. The card was headlined by a welterweight scrap between Donald "Cowboy" Cerrone and Darren Till, and the up-and-comer picked up the biggest win of his career. Darren blitzed Cerrone and never let him get comfortable, putting his left hand on the vet early and often on his way to a first-round stoppage.
In the co-main event, Karolina Kowalkiewicz got back on track after back-to-back losses to Joanna Champion and Claudia Gadelha by beating UFC newcomer but experienced vet Jodie Esquibel.
See how Twitter reacted to these exciting tilts below:
Almost Till Time. @UFCFightPass #CerroneTill #UFCGdansk

— Jon Anik (@Jon_Anik) October 21, 2017
Always love fights like Till vs Cerrone: young stud trying to knock off the vet. Throw that scouser accent in the mix and you've got something special.

— Ariel Helwani (@arielhelwani) October 21, 2017
https://twitter.com/MikeBohnMMA/status/921839974688817152
Till comes out hot every time and Cowboy… well, doesn't. Have to feel that if Till wins it'll be by early highlight reel KO.

— Phil Mackenzie (@EvilGregJackson) October 21, 2017
I don't have a beer to hold tight, but I'm ready for this gun fight… #UFCGdansk pic.twitter.com/LNXTPEYUgy

— Dan Tom (@DanTomMMA) October 21, 2017
https://twitter.com/lthomasnews/status/921841659301847042
Good to see Terry Etim in @darrentill2 tills corner. One of the pioneers of UKMMA

— scott askham (@scottaskham1) October 21, 2017
Till's best chance is to catch Cerrone early, during one of his usually slow starts. If it goes past the second, it's likely Cowboy's fight.

— Ben Fowlkes (@benfowlkesMMA) October 21, 2017
https://twitter.com/iainkidd/status/921842365152874502
WHO THE FUCK WAS THAT?!!? WOWWWWW!!!! #UFCGdansk

— Tommy Toe Hold (@TommyToeHold) October 21, 2017
Fantastic performance.

— Suzanne (@SoozieCuzie) October 21, 2017
Oh man. Darren Till crumpled Cowboy up. #UFCGdansk

— Jee (@yellowpwerrngr) October 21, 2017
Darren Till rose to the occasion. He's the real deal. #UFCGdansk

— Dan (@BestFightPicks) October 21, 2017
https://twitter.com/DownedOpponent/status/921843758232154112
Real clean hands are Cerrone's kryptonite.

— RJ Clifford (@RJcliffordMMA) October 21, 2017
There's rising to the occasion and there's what Darren Till just did.

— Fernanda Prates (@NandaPrates_) October 21, 2017
I really struggled with this pick, and should have went with my gut. Regardless, I'm happy for Till, someone I can't wait to see again.

— Dan Tom (@DanTomMMA) October 21, 2017
The boy went fishing for bass and got ahold of a shark. #BeCarefulWhatYouWishFor

— Platinum Mike Perry (@PlatinumPerry) October 21, 2017
https://twitter.com/SecretMovesMMA/status/921844325499195394
Perry scared. #UFC216 pic.twitter.com/p6kmGbGyZA

— Stephie Haynes (@CrooklynMMA) October 21, 2017
Darren Till vs. Mike Perry has to happen. That was great. #UFCGdansk

— Mike Bohn (@MikeBohn) October 21, 2017
Cancel Perry vs Ponzinibbio and give us Till vs Perry ASAP! #UFCGdansk

— MMA GOSSiP (@MMAxGossip) October 21, 2017
Mike Perry vs. Darren Till after #UFCGdansk? 😳 pic.twitter.com/qtkhkXARvh

— UFC Europe (@UFCEurope) October 21, 2017
"We're going to make that fight happen." @PlatinumPerry on @DarrenTill2 #UFCGdansk pic.twitter.com/8Ity2iSPY5

— UFC (@ufc) October 21, 2017
Here comes @KarolinaMMA, proud owner of one of the best walkouts and pre-fight demeanors in the game. #polska

— Ariel Helwani (@arielhelwani) October 21, 2017
Co-main time!@KarolinaMMA takes on newcomer @JodieEsquibel at #UFCGdansk! pic.twitter.com/OSDqz2wQAb

— UFC (@ufc) October 21, 2017
Poland's own!@KarolinaMMA #UFCGdansk pic.twitter.com/mSejhlWSZf

— UFC (@ufc) October 21, 2017
Karolina Kowalkiewicz walking out in the same building she won her first MMA title in four years ago. UFC Fight Night co-main coming up.

— Brett Okamoto (@bokamotoESPN) October 21, 2017
https://twitter.com/MMA_Jim/status/921832969001631745
She did the wink! #UFCGdansk pic.twitter.com/duMOi4g6QN

— Tommy Toe Hold (@TommyToeHold) October 21, 2017
There it is! 😉 #UFCGdansk pic.twitter.com/tbVQiIv9mZ

— UFC Europe (@UFCEurope) October 21, 2017
Karolina Kowalkiewicz walkout gimmick is on point. #UFCGdansk https://t.co/N7QYraGYb7

— MiddleEasy (@MiddleEasy) October 21, 2017
Karolina pressing and landing some beautiful knees!

— Aljamain Sterling (@funkmasterMMA) October 21, 2017
https://twitter.com/lthomasnews/status/921835964670119936
https://twitter.com/MMA_Jim/status/921835977798291457
Kowalkiewicz is attacking like a cartoon bee, buzzing and battering a flailing target at points. #UFCGdansk pic.twitter.com/hVpQBqiJ8d

— Dan Tom (@DanTomMMA) October 21, 2017
An emotional @KarolinaMMA gets back in the win column at #UFCGdansk! pic.twitter.com/POr1hC5kHL

— UFC (@ufc) October 21, 2017
This is a bit sad. Esquibel has no path to victory whatsoever and Kowalkiewicz is just doing whatever she wants.

— Phil Mackenzie (@EvilGregJackson) October 21, 2017
Kowalkiewicz vs. Andrade? YES, PLEASE. #UFCGdansk

— Jee (@yellowpwerrngr) October 21, 2017