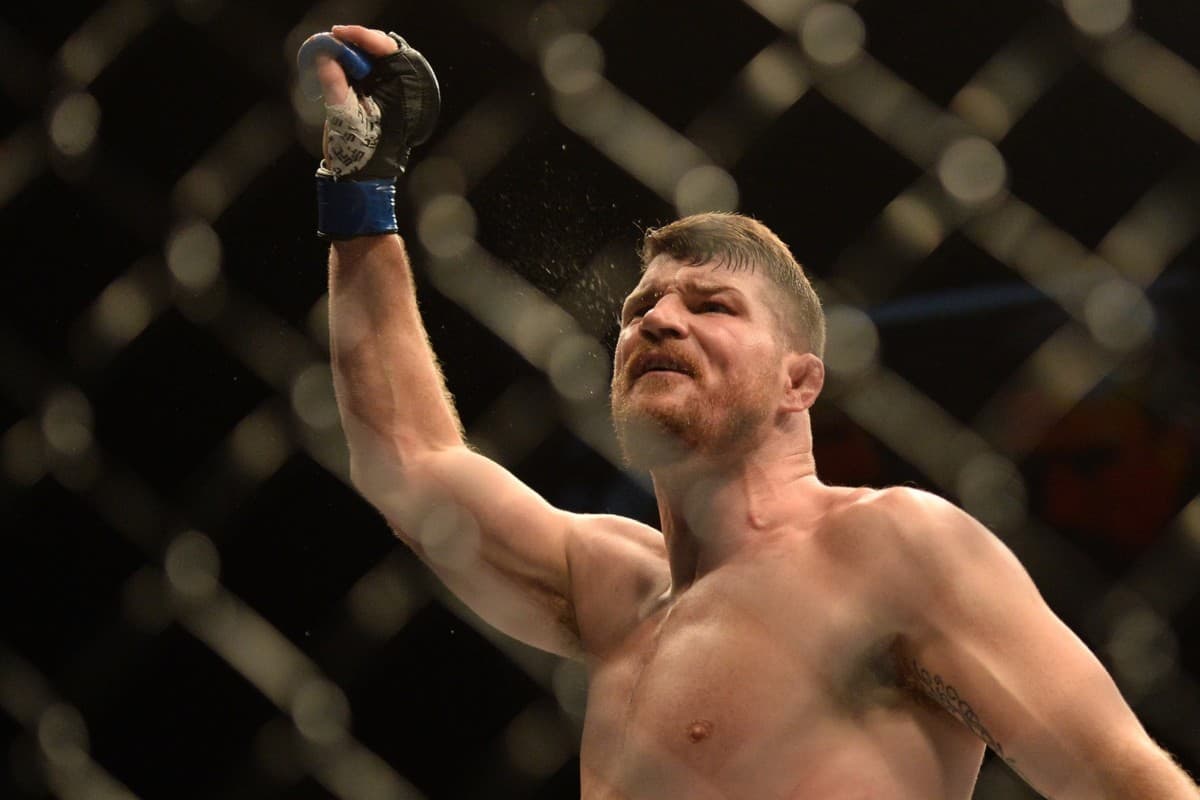 UFC 204 emanated tonight (October 8, 2016) from the Manchester Arena in Manchester, England. The night was headlined by a grudge match between unlikely middleweight champion Michael Bisping and longtime nemesis and MMA legend Dan Henderson.
The main event was replete with storylines coming into the fight. Henderson authored one of the most brutal and memorable knockouts in the first fight between the two men at UFC 100 in July 2009. Henderson would go on to capture Strikeforce gold to add to the two Pride belts on his mantle. But a UFC championship had still eluded him.
Bisping, meanwhile, was the classic "always the bridesmaid, never the bride" of the middleweight division. That is, until the run he has been on for the last year and a half. He beat the longtime middleweight king Anderson Silva, and then stepped up on short notice to knock out champion Luke Rockhold. Bisping had already suffered a knockout loss to Rockhold in a prior meeting, but that would not stop him from finally claiming UFC gold.
As the fight played out, Bisping controlled large portions of the action with kicks and stinging combinations. But Hendo detonated the H-Bomb on Bisping's chin in the first and second rounds, knocking down the British champion. But he failed to put him away, and that would prove costly. Bisping, as he has done throughout his career, rallied back from adversity to take rounds three and four. The final round was close, with a desperate Henderson making a late charge to seize the final round. But it proved too little, too late. Bisping escaped with a contentious split decision, his UFC championship reign intact.
The co-main event saw longtime middleweight stalwarts Gegard Mousasi and Vitor Belfort finally meet. Belfort, though, an MMA "OG" who first turned pro in 1996, was well past his prime, and it showed. "The Phenom" was good for a customary early flurry or two, but he could not keep "The Dreamcatcher" at bay. Mousasi landed a flush head kick followed by an accurate and devastating flurry that would not have been out of place in a video game. Belfort hung tough, for a time. Mousasi tripped his Brazilian foe to the canvas, easily worked to full mount, and battered Belfort relentlessly until the referee was forced to step in.
Check out Twitter's reaction to these intriguing matchups below:
oh god im barfing due to hendo anxiety

— Leg Kickin Tacos (@LegKickTKO) October 9, 2016
https://twitter.com/ZPGIFs/status/784961238522486784
That's a lot of freedom walking to the octagon. Mercia!!! #UFC204

— The Mane Event™ (@EliasTheodorou) October 9, 2016
My mind says Bisping but my heart says Hendo!!!!!!!!!!!!!!! #UFC204

— MMA GiFs (@MMAxGiFS) October 9, 2016
Will it be a storybook ending? #UFC204 @Peety_Editor #mma pic.twitter.com/ZslVvuZTuo

— Guy Smalley Cartoons (@cartoonlogos) October 9, 2016
One of Henderson's cornermen just caught a fresh H-bomb in the back room… I am so excited for this fight. #ufc204

— Joe Lauzon (@JoeLauzon) October 9, 2016
that's the deal. He beats your ass in exchange for him letting you hang around him

— "Filthy" Tom LawlOr (@FilthyTomLawlor) October 9, 2016
https://twitter.com/GrabakaHitman/status/784962810094686208
A @danhendo win tonight would be 20 million years in the making… #UFC204 pic.twitter.com/JecXO6HO9A

— MiddleEasy (@MiddleEasy) October 8, 2016
Dropping the Age-Bomb https://t.co/0R10KwJHDi

— Akosombo (@theakosombo) October 9, 2016
Dan Hendo winning the middleweight title tonight and retiring would be the greatest fairytale ending in MMA history. I am rooting for it.

— Fight Ghost (@Fight_Ghost) October 9, 2016
If you're Michael Bisping and you get knocked out again by Dan Henderson, do you just retire? I probably would. #UFC204

— Andreas Hale (@AndreasHale) October 9, 2016
I hope both guys win… damn

— Al Iaquinta???? (@ALIAQUINTA) October 9, 2016
Dan's tan is on that next level. #crisp #UFC204

— The Mane Event™ (@EliasTheodorou) October 9, 2016
Surprised they touched gloves #UFC204

— Mike Sloan (@MikeSloan19) October 9, 2016
Shake up the division baby ! WHOA #UFC204

— Derek Brunson (@DerekBrunson) October 9, 2016
Shake up the division baby ! WHOA #UFC204

— Derek Brunson (@DerekBrunson) October 9, 2016
OMG. Henderson almost finished Bisping. H-BOMB landed but the Brit survived this time. Bisping is a bloody mess. Crazy scenes here. #UFC204

— Chamatkar Sandhu (@SandhuMMA) October 9, 2016
That was almost deja vu like a mu'fucka.

— Andreas Hale (@AndreasHale) October 9, 2016
I CAN'T STOP LAUGHING.

IT ALMOST HAPPENED. 76-YEAR-OLD UFC CHAMPION.

— The Naked Gambler (@NakedGambling) October 9, 2016
WUT?!?! #UFC204

— Angela Hill (@AngieOverkill) October 9, 2016
Henderson's a cobra, but the mongoose in Bisping is making him work as he runs the warning track on the outside the two black lines.

— Luke Thomas (@lthomasnews) October 9, 2016
That right hand is a goddamned torpedo.

— Stephie Haynes (@CrooklynMMA) October 9, 2016
https://twitter.com/SecretMovesMMA/status/784966962208239616
I just shit my pants but don't have time to get a new pair #UFC204

— MMA GiFs (@MMAxGiFS) October 9, 2016
you just stay over in your corner then

— Midnite (@123midnite) October 9, 2016
This fight. #UFC204 pic.twitter.com/mfGZnerP5m

— MiddleEasy (@MiddleEasy) October 9, 2016
@bisping is the only one that doesn't know @danhendo is about to throw a right hand

— Justin Gaethje ???????? (@Justin_Gaethje) October 9, 2016
Michael just refuses to quit in front of his home town. Even after every knock down. Respect, champ. ???? #UFC204

— The Mane Event™ (@EliasTheodorou) October 9, 2016
Bisping winning 4:30 of every round.

Losing the fuck out of the last :30.

— Suzanne Davis (@SoozieCuzie) October 9, 2016
First fourth round for Hendo in five years upcoming.

— Brett Okamoto (@bokamotoESPN) October 9, 2016
https://twitter.com/ZPGIFs/status/784969430556180480
Hendo's head eating kicks all damn night. #UFC204 pic.twitter.com/qJjuzokak2

— ????Big????Structural????Change (@Sugarhigh5me) October 9, 2016
Congrats to @danhendo regardless of the out come you are @ufc #champ pic.twitter.com/2GltU6lRMM

— Roy Nelson (@roynelsonmma) October 9, 2016
I don't think that's how it works. https://t.co/mkXF9zv73E

— The Naked Gambler (@NakedGambling) October 9, 2016
"Just be careful" Yves Lavigne said this twice now. You think that Henderson or Bisping give a single solitary fuck about being careful now?

— Jordan Breen (@jordanbreen) October 9, 2016
I bet Henderson's kids are obedient af. Old man doesn't play! #UFC204

— Derek Brunson (@DerekBrunson) October 9, 2016
I feel, for a fight like this, you just go until there is a finish. Fuck it. It's already 6am. #UFC205

— MiddleEasy (@MiddleEasy) October 9, 2016
Wait, what time is it in England? Hendo might get his second wind once he wakes for the "early bird" special breakfast. #elderly #UFC204

— The Mane Event™ (@EliasTheodorou) October 9, 2016
https://twitter.com/SecretMovesMMA/status/784971949973893120
Wow I got Henderson winning.

— Chris Weidman (@chrisweidman) October 9, 2016
Fucking hell. That was intense. I'm sweating. #UFC204

— Tommy Toe Hold (@TommyToeHold) October 9, 2016
I've got Hendo 1,2,5. #ufc204

— Joe Lauzon (@JoeLauzon) October 9, 2016
My scorecard would have read – 10-8 Hendo, 10-9 Hendo, 10-9 Bisping, 10-9 Bisping, 10-9 Hendo… but I'm not a judge…

— Dan Hardy (@danhardymma) October 9, 2016
When I started MMA I did it for money and something to do with my life. Once I watched guys like Hendo I realized there was much more to it.

— Will Brooks (@ILLxWillBrooks) October 9, 2016
His bad eye is his good eye now

— Midnite (@123midnite) October 9, 2016
Forget the Hall of Fame for Hendo. It's not enough. Dan Henderson for President. Dan Henderson for President. #Hendo16 pic.twitter.com/GTCzQto8Zb

— Dave Sholler (@DaveSholler) October 9, 2016
????????????????????????#UFC204

— Cub Swanson (@CubSwanson) October 9, 2016
Hendo reiterates that this was his last fight. His career is officially over.

— Ariel Helwani (@arielhelwani) October 9, 2016
Dan Henderson is one of the 10 most achieved fighters ever. His strength of schedule is strongest in MMA history. Hendo is just that dude.

— Jordan Breen (@jordanbreen) October 9, 2016
Hendo's last decree. Let it be etched in stone: judge fights on how fucked up your face is. #UFC204

— Tommy Toe Hold (@TommyToeHold) October 9, 2016
https://twitter.com/superCalo/status/784976298447806465
The champ has spoken! @Bisping #UFC204 https://t.co/v5XWJHwOis

— UFC (@ufc) October 9, 2016
https://twitter.com/FrontRowBrian/status/784957331876421632
Mousasi ready for the human stampede that is Round 1 Vitor #UFC204 pic.twitter.com/KJU9p5ygjj

— FOX Sports: UFC (@UFCONFOX) October 9, 2016
https://twitter.com/Cody_Nolove/status/784957495487803392
Taunting, being a huge asshole Mousasi is my favorite Mousasi.

— Suzanne Davis (@SoozieCuzie) October 9, 2016
Mousasi just Dikembe Mutombo'd Vitor.

— Mike Chiappetta MMA (@MikeChiappetta) October 9, 2016
Mousasi looking good right now

— James Vick (@JamesVickMMA) October 9, 2016
Kermit with the late take down to stamp the round I reckon. #UFC204

— The Mane Event™ (@EliasTheodorou) October 9, 2016
— Leg Kickin Tacos (@LegKickTKO) October 9, 2016
Holy shit, Moose is Menne'ing him! #UFC204

— Stephie Haynes (@CrooklynMMA) October 9, 2016
https://twitter.com/Patrick_Wyman/status/784959924547653632
No sweat for Mousasi. Man he plastered Belfort with a head kick, then swarmed for a finish. Sliced through Belfort's guard and pounded away.

— Josh Gross (@yay_yee) October 9, 2016
So…Belfort has some issues with the full mount, yea? #UFC204

— ????Big????Structural????Change (@Sugarhigh5me) October 9, 2016
Excellent work from @mousasi_mma … Controlled pressure and a gorgeous pass to mount before the finish #UFC204

— Zachary Makovsky (@ZachFunSize) October 9, 2016
I just saw @mousasi_mma smile. Best night of my life #UFC204

— Tim Kennedy (@TimKennedyMMA) October 9, 2016
Them Dutch Boys don't fucking play.

— UFC YouTube Comments (@UFC_YT_Comments) October 9, 2016
#UFC204 Yahtzee! pic.twitter.com/o1QyqPq1bh

— Mike Fridley (@mikefridley) October 9, 2016