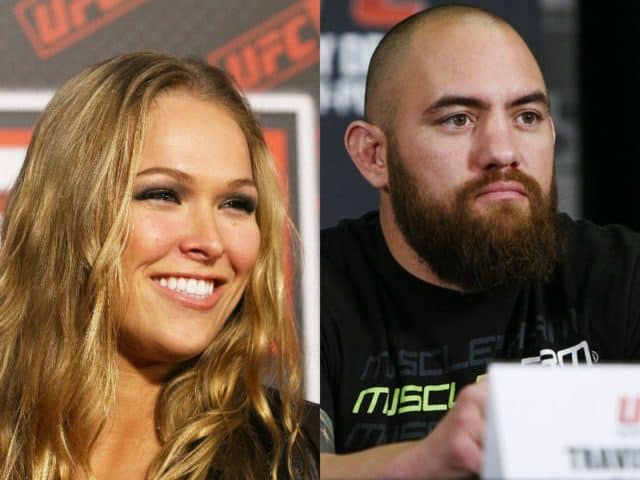 Several months ago there was a photo of UFC heavyweight Travis Browne and UFC women's bantamweight champion Ronda Rousey that surfaced online while the two were at dinner together.
Browne confirmed while appearing on Monday's edition of The MMA Hour that he is in a relationship with Rousey. Browne explained that dating is for children, but being in a relationship is for adults.
"Dating is for children," Browne said. "Dating is for kids. Over the summer, through all the sh*t that I had to shuffle through, that I had to sift through, Ronda, and I started talking throughout the summer, and I'll say now that we are together. She's my woman, and I'm her man. There's no boyfriend, girlfriend stuff. There's no dating. We're together."
The two train together and one would think that it would be tiring to be at work with your significant other, but according to Browne, it's not.
"It's not weird," Browne said. "It's not something we have to adjust to. We've been doing that the entire time that I was here. She was doing her camps, I was doing mine without that thought process going through our head.
"There isn't a single damn thing, unless it has to do with a family member on their deathbed, that's going to distract me from those two hours and being focused in that gym. When my coach talks, I listen. When he's working with somebody else, I'm watching. The same goes for her and she's actually been a great example of that, of just being ultra focused and being borderline obsessive with training. And it's not weird at all. Like I said, we didn't start off interested in each other and now we have to work together. We worked together when we were just acquaintances."
While Rousey is a mega star, Browne knows who Rousey truly is and sees her for who she is and not who she appears to be while in the spotlight.
"She's a huge star and that's great for her and I'm happy for her," he said. "I want nothing to do but support that aspect in her life."
Rousey is scheduled to fight Holly Holm at UFC 193 while Browne will be fighting Matt Mitrione at UFC Fight Night 81.