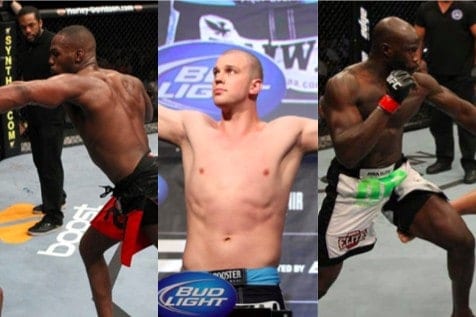 Possibly the most important statistic when it comes to the "tale of the tape" statistics trifecta is a fighter's reach. For those who don't know, a fighter's reach is measured by having the fighter spread their arms out to the side, making an "airplane" gesture, and the length from one fingertip to the other calculates their reach. This is also known as their "wingspan".
Reach is such an important attribute because it allows a skilled striker to control the distance between himself and his opponent, keeping them at bay and within a comfortable striking distance. This provides the fighter with the luxury of being able to strike his opponent while his opponent can't return fire successfully.
There have been many a rangy fighter in the UFC's long and storied history, and here we'll be taking a look at the longest of the long. They may not all be skilled stand-up artists who know how to use their reach to their advantage, but their's obviously no denying that these men have some impressively long limbs.

T-1.) Jon "Bones" Jones – 84.5″ 
Jones is widely considered the best pound-for-pound fighter in the world as well as one of, if not the greatest, mixed martial artists of all time.
Not only does "Bones" employ an ever-expanding arsenal of vicious striking and an absolutely dominating ground game, but he's also one of the most masterful fighters at using his overwhelming reach, thanks to kickboxing coach Mike Winklejon and long-time striking coach Brandon Gibson.
Using his imposing jab and well-disguised teep kicks, Jones keeps opponents at a comfortable distance with seeming ease, and uses that established distance to pick his opponents apart, breaking them down and forcing them either into his clinch or to the canvas. Once you're there, you're in "Bones" world, and the fight is all but over.

T-1.) Stefan "Skyskraper" Struve – 84.5″
Standing at a towering 7'0″ tall, one may think that "Skyskraper" would have the longest reach in the UFC, by far. However, due to physical freaks such as Jon Jones, he comes in at a tie for first place.
The Dutch kickboxer has had a long and successful career, racking up a 26-8 record and squaring off with a who's who of top heavyweight contenders. His most impressive win came in 2012, with an impressive second round knock-out of soon-to-be heavyweight title challenger Stipe Miocic.

3.) Francis "The Predator" N'Gannou – 83″
"The Predator" is a relative newcomer not just to the UFC, but to MMA in general. He first began training back in July 2013, and rode a six fight win streak all the way to the UFC in the summer of 2015.
He's a powerful, raw talent who with the right training and mindset could be an absolute force to be reckoned with in the very near future.
Interestingly enough, his last win came at UFC Fight Night in Croatia with a dominating performance against the next fighter on our list, Curtis Blaydes. That night in the Octagon, we saw a combined reach of 165.5″, or 13.8 feet; almost four feet higher than an NBA basketball rim. Wow.

4.) Curtis "Razor" Blaydes – 82.5″
Curtis Blaydes is also a newcomer to the UFC, his first official UFC fight being against the aforementioned N'Gannou at UFC Fight Night in Croatia. He's a Dutch style kickboxer (a la Struve) who's known to use that monster reach to his advantage, however, that reach was negated by N'Gannou's relentless pressure and penchant for taking the fight up against the cage.
Going into that matchup with "The Predator", Blaydes had amassed a 5-0 record, all ended by TKO before the final bell.
He's an intriguing prospect for a heavyweight division that is in dire need of a fresh injection of young blood, and he'll be an exciting fighter to keep an eye on so long as he continues to develop properly.

5.) Cheick Kongo – 82″
Last on our list of longest reaches is the wily veteran Cheick Kongo, who in his 18 fight career (he's now in Bellator) racked up a record of 12-6, with his last appearance in the Octagon ending with a first round KO at the rock hard hands of Roy "Big Country" Nelson.
As one of the most physically intimidating fighters to ever set foot in the Octagon, Kongo notched impressive victories over the likes of Pat Barry, Matt Mitrione, Travis Browne (later overturned to a draw), Shawn Jordan and Lavar Johnson.
One can only assume, with both fighters taking their talents to the UFC's biggest rival, Bellator, that Kongo will inevitably cross paths with Mitrione again in the near future. However, only time, and Scott Coker, will tell.
Honorable Mentions
Matt "Meathead" Mitrione – 81.5″
Antonio "Bigfoot" Silva – 81.5″
Lavar "Big" Johnson – 81.0″
Brock Lesnar – 81.0″
Walt Harris – 81.0″
Soa "The Hulk" Palelei – 81.0″
Liam McGeery – 81.0″
Stephen "The American Psycho" Bonnar – 80.0″
Alistair "The Reem" Overeem – 80.0″
Ovince "OSP" St. Preux – 80.0″
Ben Rothwell – 80.0″