Top 5 BJJ Fighters From The United States (US)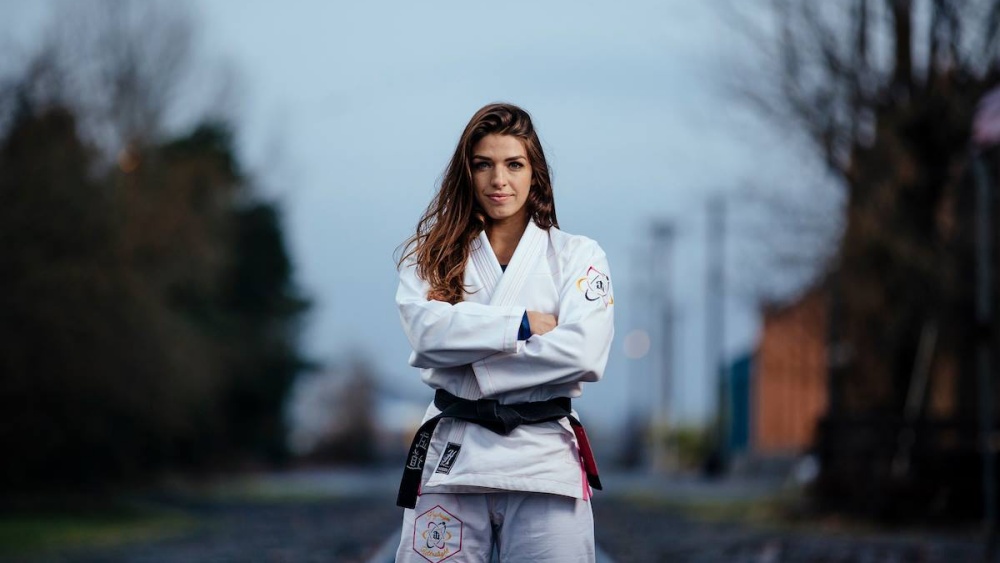 Guest post by Evolve MMA, Asia's premier championship brand for martial arts. It has the most number of World Champions on the planet. Named as the #1 ranked martial arts organization in Asia by CNN, Yahoo! Sports, FOX Sports, Evolve MMA is the top rated BJJ gym in Singapore.
Brazilian Jiu-Jitsu is a mainstay of MMA tournaments on the American continent. This is in large part due to the 'outreach' efforts of a section of the Gracie family. You may know the Gracie brothers as the innovative family who crafted a new variation of Jiu-Jitsu that we now know as BJJ.
Did BJJ find a foothold in the U.S? There's no better way to answer this question than to look into the careers of the top BJJ fighters from the US.
Mackenzie Lynne Dern Santos is a Brazilian-American BJJ fighter and mixed martial artist. She is a black belt who holds several ADCC and IBJJF titles.
Mackenzie Dern is the daughter of Wellington "Megaton" Dias, a sixth-degree black belt under Royler Gracie's Gracie Humaitá Jiu-Jitsu association. She gets her love of BJJ from her father and stepmother, both of whom are accomplished competitors in their own right. Mackenzie's exposure to BJJ at an early age makes her a prodigious martial artist.
Training
Dern started to spend time with her father at the Jiu-Jitsu academy as a toddler. Her father was her first instructor, and he took her through the basics of Jiu-Jitsu starting from the age of three. She competed in grappling and judo competitions throughout her childhood.
The peerless talent of the young competitor soon saw her participating in Jiu-Jitsu's adult division at the age of 14. It is at this point that Dern decides to pursue martial arts as a career.
She draws on the coaching talent of her father and multiple BJJ world champion Leticia Ribiero. With support from the Gracie Humaitá team, Dern won the BJJ world championship at every color belt on her journey to black.
Titles, Wins, Fighting Technique
Mackenzie Dern is arguably one of the best featherweight black belts in the world. She has an outstanding list of wins:
Winner of the 2013 Copa Podio Superfight Championship
2015 IBJJF world champion in both Gi and No-Gi categories
Pan-American IBJJF champion in 2015/2016
IBJJF European Open 2015/2016
Dern makes the Gracie Humaitá team proud, as she boasts 45 submission wins and 8 submission losses in her career. Also worth noting is the sheer number of fights she has under her belt.
2) Gianni Grippo
Grippo is a black belt who currently trains and competes under the Marcelo Garcia Academy in New York. He puts in the work, enjoying a reputation that he built by winning six BJJ world titles in the lower-belt division of the sport.
Training
Gianni Paul Grippo is a featherweight BJJ fighter who started his sporting career as a swimmer. His swim team made it to the Junior Olympics three years in a row. He remained on the swim team through his high school years. Here's his BJJ journey:
Grippo took up BJJ in his high school years, as he continued to participate in swimming meets. He commuted to Manhattan to access the best BJJ trainers in New York. Still, martial arts took a back seat to swimming until a trip to Brazil in 2004. His experience at the 2004 BJJ world championship pushed Grippo into a full-time martial arts career.
Grippo starts training at the Renzo Gracie Academy in New York. His natural ability and diligence allowed him to rack up titles in lower belt divisions.
Along the way, Grippo changed teams to join Marcelo Garcia's Alliance Academy. He aimed to get training that was specifically geared towards BJJ as opposed to the more generalized MMA training at the Gracie Academy. Grippo continued to earn medals and titles, culminating in a black-belt award in 2013.
Wins
This accomplished martial artist cemented his reputation by winning multiple titles in the colored belt divisions. He was the 2011 Pan-American IBJJF champion in the purple belt division. In 2012 he won the same title as a brown belt. Grippo also won the IBJJF world championships in the following years:
Gold in both 2007 and 2009 as a blue-belt
First place in 2011 as a purple-belt
First place in 2012 and 2013 as a brown-belt
After receiving his black belt in 2013, Gianni continued to gather titles and medals. Here are his career highlights:
IBJJF Pans Champion in 2014, 2015 and 2018
Pan-American No-Gi Champion in 2017 and 2018
First place in the 2018 IBJJF world championship (No-Gi)
Gianni Grippo boasts 53 submission wins against eight submission losses. This is an enviable showing that puts Grippo at a 33 percent chance of winning a fight by submission.
3) Rafael Lovato Junior
Rafael Lovato is a middleweight mixed martial artist who has the distinction of zero losses throughout his MMA career. He also has an impressive collection of titles across different BJJ circuits, where he competes as a middle-heavyweight.
This Brazilian-American grappler is the son of a martial artist, so his journey to BJJ was all but inevitable. This is his story.
Training
Boxing is Rafael's first love, and he started taking classes at a young age. Later on, he also takes up Jeet Kwon Do. At age 13, Lovato discovers BJJ through his father, who trained with the world-famous Carlos Machado.
Machado's studio was in Dallas, but the Lovato family lived in Oklahoma City at the time. This means that Lovato senior would have to make a weekly trip to train. For practice, he recruited his 13-year-old son, which is how Rafael ends up learning the ropes of BJJ. Rafael would later join his father on his weekly trips to Machado's Dallas studio.
By 2003, the then 19-year-old Rafael became one of the toughest BJJ brown belts of his time. He meets Saulo Ribiero at a competition and a friendship begins. Ribiero asks Lovato to train with him in Brazil, the home of BJJ.
Brazil, Training And Competitions
As Lovato Jr. trains, he gets the chance to prepare a fighter for a match against Ryron Gracie. Preparation takes the form of a three-month training camp where Lovato receives his black belt. At age 21, Rafael becomes an accomplished BJJ black belt.
In 2005, Lovato joins the Ribiero brothers' academy permanently. From this academy, he gathers a haul of medals and titles:
2007 IBJJF world champion in the middle heavyweight class
IBJJF world champion in his weight class in 2007 and 2008
Gold medalist in the 2007 and 2008 Pan-American championships
First place in the 2008 and 2013 Brazilian nationals
Lovato is an excellent grappler with 54 submission wins and only nine submission losses. Even more impressive is the fact that Lovato is well-rounded in his technique. This means you never know what technique he will use to gain an advantage.
4) Robert Drysdale
Drysdale is a Brazilian-American BJJ fighter. It's easy to make the case that he is one of the best grapplers that has ever graced the BJJ circuit.
Robert Drysdale is a fourth-degree black belt who competes in the light heavyweight division. He's the only American that holds both an ADCC world championship and an IBJJF World Championship. Drysdale also has a successful career as a mixed martial artist and coach.
Training
Drysdale is six years old when his family moves to Brazil in 1987. He spends most of his childhood in the country, where he gets an opportunity to train in Brazilian Jiu-Jitsu. His training starts at age 17 when he joins the Quatro Tempos Academy in Itú, São Paulo state. Soon after he moves to Nevada for further studies. Here he continues to train with instructor Steve da Silva.
In 2000, Drysdale moves back to Brazil where the BJJ scene is more vibrant and competitive. He joins the Maromba academy in Indaiatuba, Brazil. Drysdale dedicates his time to grappling and competition. His efforts pay off and he wins a world title as a purple belt.
Robert would move on to team Brasa, where he would earn his black belt and win more titles.
Titles
It bears repeating that Drysdale competes in BJJ as well as MMA tournaments. He is a famous cage fighter and a UFC fan favorite. Here are his BJJ career highlights:
Gold medalist at the 2004 Brazilian nationals in the brown belt division
2005 IBJJF World Champion in the heavyweight division
First place in the 2005 and 2006 CBJJ World Cup
In 2007 Drysdale moved back to the US to pursue a coaching and MMA career.
5) BJ Penn
BJ Penn is a legend, not least because he's the first US gold medalist in the history of the world Jiu-Jitsu championship. Penn also has the distinction of competing in multiple weight divisions over the course of his career. He is responsible for creating a large and loyal fan base for UFC featherweight bouts.
Training
The journey to Penn's fifth-degree BJJ black belt starts with his neighbor in Hawaii. This neighbor (who goes by the name Tom Callos) needs sparring partners to practice his Jiu-Jitsu technique. A 17-year-old BJ Penn takes up this opportunity and develops an interest in Brazilian Jiu-Jitsu.
Soon Penn moves to San Jose and starts training at the Ralph Gracie BJJ academy. His experience at the academy inspires him to pursue martial arts at a professional level.
Titles
In 1997, 19-year-old Penn receives his purple belt from Ralph Gracie. Soon after Penn moves to Brazil and joins the Nova União BJJ team, where he earns his black belt in the year 2000. Here is Penn's list of wins from 1997 to 2000:
Silver medalist, blue belt division in the 1998 BJJ world championship
Bronze medalist, brown belt division in the 1999 Mundials
2000 BJJ world champion, black belt division
After his win at the 2000 BJJ championship, Penn turns his focus to MMA. He becomes the UFC welterweight champion in 2004.
It's worth noting that BJ Penn never lost a grappling match. While this is an impressive statistic, it bears mentioning that he's only been in four pro grappling matches.
A Pan-American Affair That Spans A Landmass
Brazilian influence on US BJJ fighters is undeniable. It makes sense, given the role of the Gracie family in exporting the gentle art to the US.