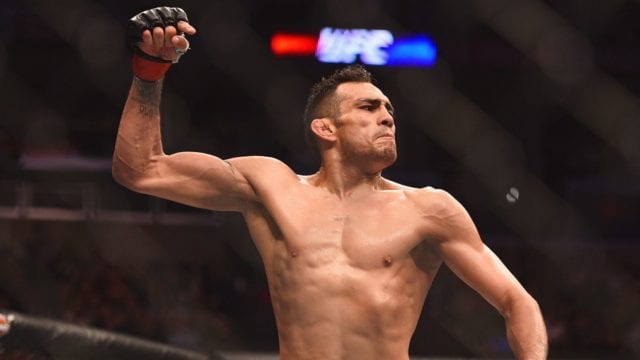 Tony Ferguson's wife has issued a statement regarding the decision she made to file a restraining order against her husband. On Wednesday, Cristina Ferguson filed the temporary restraining order in Orange County (Calif.) Superior Court.
According to the court documents, there is an investigation scheduled to occur March 22 with a domestic violence hearing on April 5.
According to the California Domestic Violence Prevention Act, they allow the issuance of immediate temporary restraining orders to help provide quick protection for potential victims. It should be noted that just because this order was issued doesn't mean that Ferguson is guilty.
Cristina's lawyer, Jeffrey L. Heath, released a statement to ESPN on Thursday night:
"Tony Ferguson is a good husband and good father to our son," Cristina Ferguson said in the statement. "The current legal proceedings are a part of a process to ensure that Tony will receive the help necessary to continue being the best possible, as well as to pursue his passion and career as a UFC champion fighter. All positive well wishes are sincerely appreciated and I hope our privacy will be respected."
The former interim UFC lightweight champion hasn't had a hearing or a permanent restraining order filed against him by the court. Typically, a judge will make the call whether to issue a temporary order the same day a request for a restraining order is made.
It will be played out at a hearing on April 5th. In the meantime, the temporary restraining order against Ferguson will remain.

If you enjoyed this story, please share it on social media!