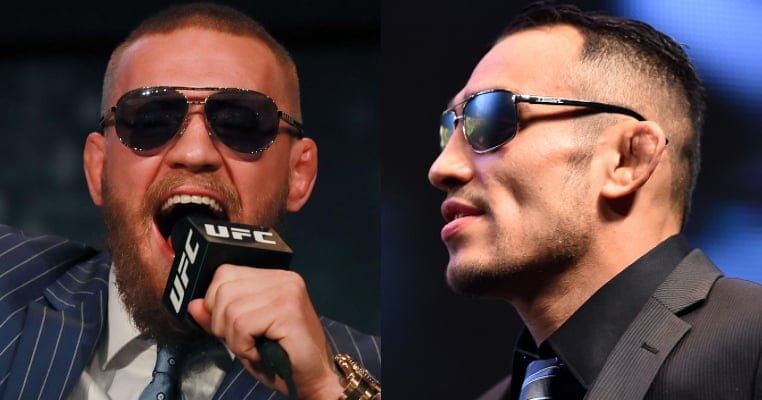 Interim lightweight champion Tony Ferguson will be finally fighting Khabib Nurmagomedov at April's UFC 223 from Brooklyn, but he claims that wasn't the original idea.
Ferguson revealed at today's UFC 25th Anniversary Series press conference from Boston that Conor McGregor was offered a fight against him, but he declined to do so. McGregor hasn't fought or defended his title since winning it in 2016:
"Well they offered me Conor; Conor didn't want to fight. So I wanna fight people that actually wanna sit there and fight, I'm not gonna beg somebody to go there and fight.

"This is the real belt; I've fought 10 fights. You guys all watched 'em. If not, you're a casual. Go watch my fights, you'll see exactly why I have this belt. I am the champ."
"El Cucuy" stated that McGregor's time was done and he was actually defending 'his' title to predictable boos from the many McGregor fans:
"Conor McNuggets is nothing, he's lost his sauce. And this is defend or vacate. This is, right here, I'm defending my belt. My belt, I'm defending."
Also at the press conference, UFC president Dana White didn't say McGregor was stripped of the title but did provide a confusing bit of runaround by claiming Ferguson Vs. Nurmagomedov would be for the real lightweight title.
"I have no update. The winner of Khabib-Ferguson will be the champion.

"They're going to fight for the real title. This is the real title. I said that Conor can't hold up the title for two years."
If what White says is true, the 'real' lightweight champion will be determined at UFC 223 in April, yet we've seen him say one thing and do the exact opposite or many more than one occasion. Ferguson won the interim belt after submitting Kevin Lee at UFC 216 while McGregor has remained MIA.
McGregor's coach John Kavanagh has been doing his best to keep "The Notorious'" name in the mix; however, there has been no word or confirmation on McGregor's next fight, or if he will fight again at all. McGregor notoriously made nearly $100 million in his boxing bout with Floyd Mayweather in August, and is financially set  for the foreseeable future.

Do you believe McGregor turned down a fight with Ferguson? If so, does he deserve to be stripped of the title?