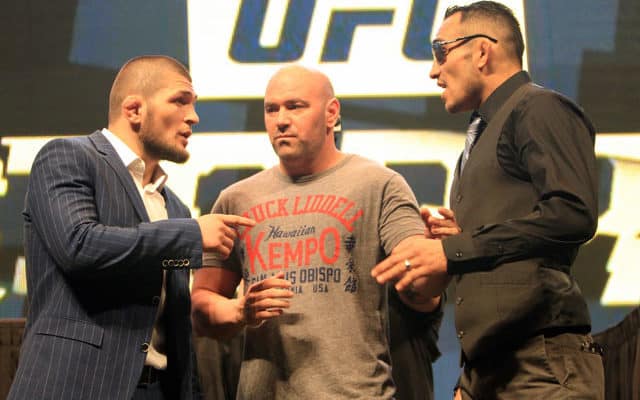 Tony Ferguson is preparing for his return and has his sights set on Khabib Nurmagomedov.
The history between these fighters may be recent, but interesting at the same time. It's been documented that the main event of the UFC 223 pay-per-view event went through three official changes.
The UFC attempted to book Nurmagomedov against Ferguson and Max Holloway in the main event for the lightweight title.
However, Ferguson pulled out due to an injury and Holloway wasn't able to make weight on short-notice. Thus, they got Al Iaquinta to step in on 24 hours notice and fight Nurmagomedov.
As many believed would happen, it did, Khabib ended up winning the fight along with the undisputed UFC lightweight title.
The reason that Ferguson was unable to make this fight happen and was forced out of the main event is due to the fact that he tore his LCL. As a result, he had to undergo the knife to correct the injury. Now, he's expected to be on the sidelines for 6-to-9 months while he recovers.
Ferguson made it clear during a recent interview that he wasn't impressed by Khabib's performance at UFC 223 and eyes a fight with him once he is cleared to return to action which he is targeting to be around September.
"I was not impressed by Khabib's performance," Ferguson told Helen Yee at the UFC Hall of Fame ceremony yesterday (transcript courtesy of MMA Fighting). "Obviously his conditioning was in check a little bit. Al Iaquinta, he did what he had to do and he was an Ultimate Fighter, he went all five rounds. It was exactly what I expected was gonna happen. [Khabib] got exposed, it's what I knew."

"Don't know, haven't heard s**t," Ferguson said about a fight with Nurmagomedov potentially being re-booked. "What I know is I've been keeping my nose clean, making sure that my leg is healing right. As far as how the fights are gonna go, the fans want to see myself and Khabib. That's what they really want to see. Conor's got his s**t going on – slap on the wrist, whatever, that's not my business – so if the s**t happens and they want to go with Khabib, let's do this. Let's have some fun with it."

"I'm about 90 percent right now," Ferguson said. "Obviously, I want to get back in there. September looks good for me."