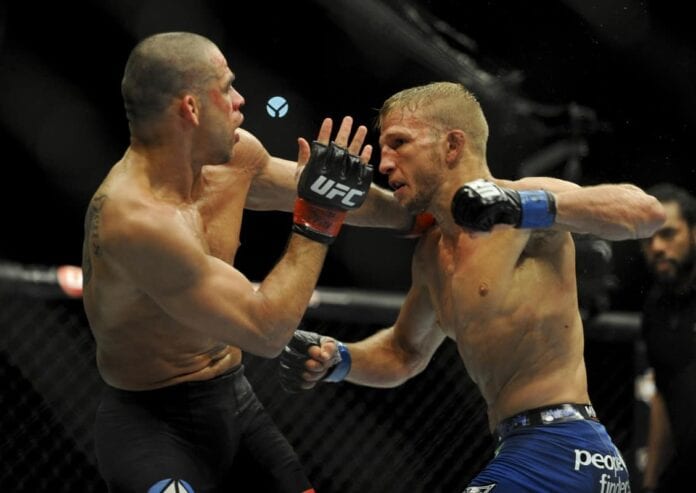 UFC on FOX 16 is set to go down on July 25, 2015 from Chicago, and it instantly became one of the best cards of the summer when the UFC announced three marquee match-ups on tonight's (April 14, 2015) "America's Pregame" on FOX Sports 1 that will be taking place on the card.
In the main event, reigning bantamweight king TJ "The Viper" Dillashaw will defend his strap in a highly-anticipated and long-awaited rematch against former champ Renan "The Baron" Barao. The two men were originally supposed to do the rematch at UFC 177 last August, but Barao was forced out the day before the bout due to a weight-cutting issue.
They were then supposed to meet at April 25's UFC 186, but Dillashaw was recently forced out to due to a rib injury of his own.
Since stealing the belt from Barao back at UFC 173 in 2014, "The Viper" has defended it once against Joe Soto at UFC 177. On the contrary, since losing his belt, Barao has also only fought once, when he scored a submission win over the lesser-known Mitch Gagnon last December. Two of the best 135-pounders in the world will finally settle the score come July.
Also announced today, former lightweight champion Anthony "Showtime" Pettis will return to action after brutally losing his title to Rafael dos Anjos last month and take on Myles Jury, who is also coming off of a loss to top contender Donald Cerrone. Pettis will look to bounce back with a win here, while a win for Jury would most likely shoot him up the long list of lightweight contenders.
Although these are two amazing fights, the UFC didn't stop here, also announcing the previously speculated upon women's bantamweight matchup between top contenders Miesha "Cupcake" Tate and Jessica Eye. This will be an important fight for both ladies, as each is chomping at the bit to earn a coveted UFC title shot.
It looks like the UFC's summer return to Chicago just got a lot hotter. That is, if everyone can stay healthy long enough for the elusive bantamweight title rematch to actually take place.