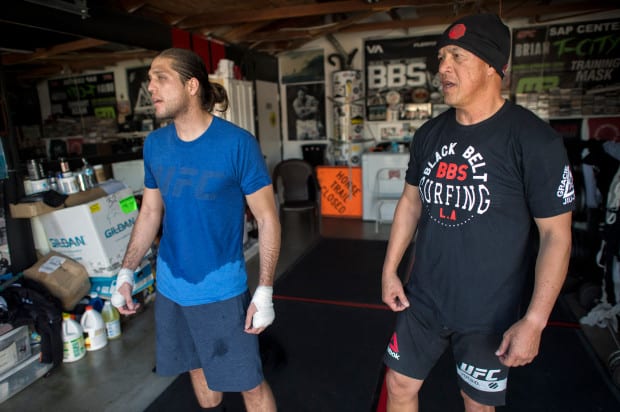 Brian Ortega will challenge for the UFC featherweight championship when he meets Max Holloway in the main event of UFC 231 on Saturday night.
Meet the man who helped save his life.
Everyone has someone that changes their life in a positive way. An individual that helps them through tough times. For the undefeated "T-City" Ortega, this man is James Luhrsen.
Luhrsen coached a handful of kids at a local gym in the North Harbor Area and he was well plugged into the local troublemakers. Although young Ortega wasn't exactly a "bad kid," Lurhsen revealed via ESPN that he did have a tendency to run with the wrong crowd.
"I had heard nothing but good things about this kid," Luhrsen said. "I grew up with nine boys who knew everybody, and I was always hearing this name, 'Brian Ortega.'
Down A Better Path
Luhrsen is a man of principle, and being that he couldn't stand to watch Ortega throw his life away. He detailed the first time he met young "T-City".
"I'm at the beach one day, and I see this kid. I said, 'F—, that's him.' He was with a rough crowd. I went up and said, 'Hey, why the f— are you hanging with these guys?' They were looking at me, but I didn't give a f—. I didn't like it, I didn't like seeing this good-looking kid, who I heard these good things about, going down that route.

"I let him know who, I was and that I could teach him how to box, I said, 'Brian, do you want to learn it? Do you want to learn the stand-up?' He said, 'Yeah, James, I really do.' I told him, 'OK, come to my house tomorrow.'"
Ortega respected Luhrsen almost immediately. He was different,  from the same neighborhood. And he knew what it was like growing up in the 'hood.'
"James would go right up to people and say, 'You can't hang out with Brian anymore,'" Ortega said. "I'd say, 'But, James, that's my homie,' and he'd go, 'F— that, I'm your homie. You don't need that guy anymore.'"
Luhrsen will be in Ortega's corner this Saturday night as he attempts to win his first UFC title.
If you enjoyed this story, please share it on social media!