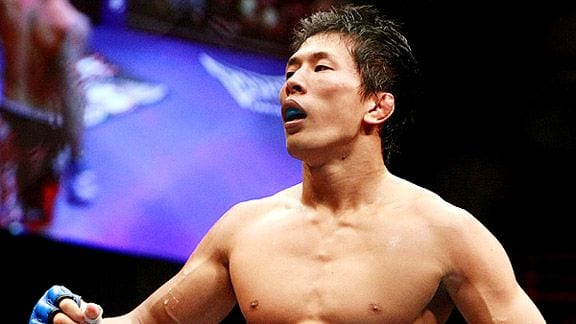 Two former World Extreme Cagefighting (WEC) competitors did battle at UFC Fight Night 75. In a bantamweight tilt, Takeya Mizugaki (21-9-2) met George Roop (15-12-1) inside the Octagon in Saitama, Japan.
Mizugaki pressed forward for a bit until he found his back against the cage. Mizugaki landed several knees to the body in the clinch. Mizugaki reversed the position and had Roop's back against the fence for a moment. Mizugaki landed a left hook to the body, followed by a right hand to the head. Most of the round remained in the clinch, but in the moments of exchange, Mizugaki was the more accurate striker.
Early in the second round, Mizugaki had Roop backing up after connecting with a combination. Roop began finding a home for his leg kicks, but he didn't mix it up and instead went back to the clinch. They separated and Mizugaki looked to make Roop pay for a leg kick with a right hand that was blocked.
Round three was underway and Mizugaki landed a punch to the body. Roop continued to clinch Mizugaki without doing any damage. They broke free shortly, but were right back in the clinch when Mizugaki went for a flying knee. Mizugaki popped Roop with a left jab and the two continued to work in the clinch.
By the end of the fight, all three judges saw Mizugaki as the winner.
Final Result: Takeya Mizugaki def. George Roop via unanimous decision (29-28, 29-28, 29-28)