Donald Cerrone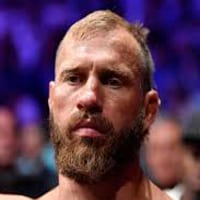 DOB: March 29th, 1983
Birthplace: Denver, Colorado
Nickname: Cowboy
Gym: BMF Ranch
Style: Muay Thai
Weight Division: Lightweight/Welterweight
Championships: N/A
Cerrone's early years
Donald Cerrone grew up in Denver, Colorado and would often get into fights during his childhood. In high school, he started a career as a professional bull rider.
While living with his grandparents, Cerrone took up kickboxing and later focused more on Muay Thai. He quickly gained a passion for fighting and wanted to make a career of it.
Before getting into MMA, he would fight in professional Muay Thai bouts and 1 boxing match. In his kickboxing career, Cerrone went undefeated going 28-0-1 with 19 KOs.
Cerrone enters MMA
Cerrone first began training MMA at a local gym in Denver, but then moved to Albuquerque to train with Greg Jackson. At Jackson-Wink MMA, Cerrone would train alongside champions like Rashad Evans, Jon Jones, and Georges St Pierre.
Early in his MMA career, Cerrone would win his first 7 fights all by submission. Including a triangle choke against Anthony Njokuani that was featured on the Versus show Tapout.
With an undefeated record, he would begin fighting on WEC cards. He would go 6-3 fighting for the lightweight championship twice, but losing both times to Benson Henderson.
Cerrone enter the UFC 
When WEC merged into the UFC, Cerrone became part of the revamped UFC lightweight division. He would quickly become a fan favorite winning his first 4 fights in the UFC.
His 5th fight would be against a tough opponent and TUF winner Nate Diaz. Cerrone would let Diaz take him off his game and he would lose a unanimous decision and his first UFC loss.
Even though he lost, Cerrone was still becoming one of the most popular fighters in the UFC. This was due to his exciting style and persona as the cowboy.
Cerrone continues his UFC run
Donald Cerrone has been active in the UFC for almost 10 years. Making him one of the longest tenured fighters in the history of the promotion.
After his loss to Nate Diaz, Cerrone would go 11-2 within the next 3 years. This included wins over some of the best fighters in the division like Jeremy Stephens, Jim Miller, and Eddie Alvarez. Also avenging two losses to Benson Henderson.
Cerrone gets a shot at the title
After going on an impressive run, Cerrone would get his only shot at the lightweight title Unfortunately, he would lose to Rafael dos Anjos for the second time and this time by TKO.
Cerrone moves to welterweight
Wanting to make a change and tired of cutting weight, Cerrone moved up to welterweight. Some critics questioned the move to fight bigger opponents, but Donald quickly silenced them.
He would win his first four fights at welterweight. All by finishes over Alex Oliveira, Patrick Cote, Rick Story, and Matt Brown.
Cowboy would get his winning streak snapped and go on a 3 fight losing streak. Not deterred by the losses, Donald would stay busy and bounce between weight classes.
He would win a few and lose a few before losing his last 4 fights and fighting to a draw against Niko Price.