Sean Strickland accuses Israel Adesanya of producing 'Puppy porn' in viral video, demands PETA investigate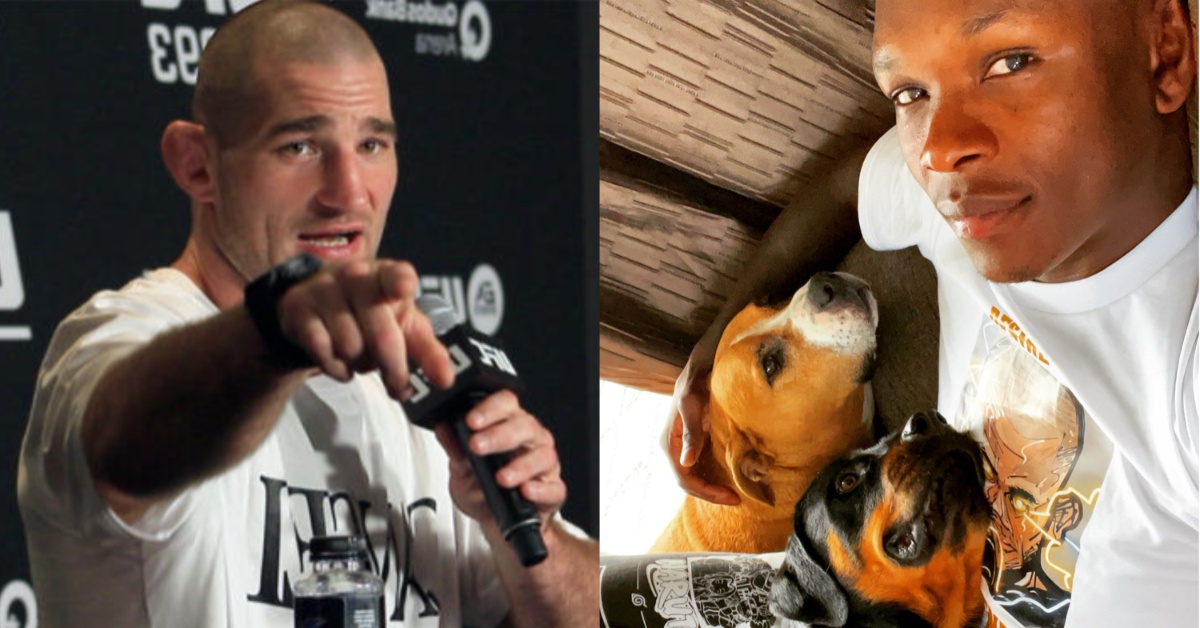 Sean Strickland made a rather crazy accusation during his interaction with Israel Adesanya ahead of their title tilt on Saturday night.
The UFC 293 headliners went face-to-face for the first time during a pre-fight press event on Thursday, surrounded by other members of the evening's highly anticipated main card. As expected, Strickland was the MVP of the festivities, making some eyebrow-raising accusations aimed at the reigning middleweight world champion and his penchant for touching dogs inappropriately.
The onslaught actually began ahead of the press conference with Sean Strickland suggesting someone call PETA (People for the Ethical Treatment of Animals) regarding Adesany's questionable behavior with a beloved pet.
"Somebody needs to call PETA after what Izzy does with his dog," Strickland said during the UFC 293 open workouts.
'Tarzan' was far from done once he took the stage at the UFC 293 press conference.
"You know what, the moment I post a video of me jerking off my dog, that will put some credibility to that," Strickland shouted at the press event. "F*cking puppy porn, man? I had to double-check that sh*t just to make sure it was legit. And it was legit! I followed Izzy for a quick second just to check. It was real!"
Israel Adesanya Issues a Warning to Sean Strickland
For those unfamiliar, Sean Strickland's comments come after Adesanya was seen in a video on social media fondling his dog's nether region. 'Stylebender' has largely ignored inquiries as to what he was doing and, more importantly, why he was doing it, but after Strickland brought some renewed attention to the incident, Adesanya decided to respond to one lucky who suggested that Izzy's actions were admittedly "a bit weird."
"Lucky you. The champ will actually respond to you. I was 22, I flicked my dogs soft willy while patting his belly and I thought it was funny. I've ignored this bs cuz that was my DAWG, he in heaven now. Sean bringing up my dead homie like that, he gonna get Jon Wicked for data."
This is certainly not the kind of buildup anyone expected heading into a massive UFC title fight, but considering what we've heard come out of Sean Strickland's mouth in the past, is it all that surprising?