'Stitch' Duran: It Pisses Me Off That Dana Didn't Have The Balls To Call Me Directly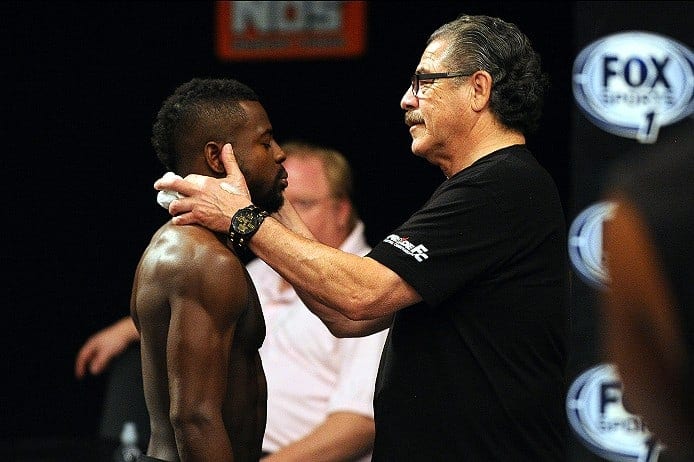 Last night (Tues., July 21, 2015) the UFC made the somewhat shocking decision to fire longtime cut man Jacob 'Stitch' Duran following some derogatory comments he made about the promotion's new sponsorship deal with Reebok, a move that left many in the MMA world with their collective mouths agape in disapproval.
But for 'Stitch,' it wasn't just the fact that the UFC had fired him for speaking his mind; it was also the fact that UFC president Dana White, with whom Duran said he once had a close relationship, couldn't own up and hand him the bad news himself.
Duran stated that White didn't even have the courtesy to call him and tell him about their decision to let him go in a conversation with MMA Fighting:
"That's another thing that pisses me off, that he didn't have the balls to call me directly. He had some other guys call me."
'Stitch' also said that, as a highly sought-after boxing cut man, while he wouldn't be lacking for work, he could see the changes in the UFC and how his employers White and Lorenzo Fertitta had changed. He conveyed the opinion that they were only about the money now, a complaint that has been heard all too much lately:
"It's not like I'm going to lack any type of work. It's just that I really enjoyed working with the fighters and the people in the UFC. To get a nut shot by Dana in him not calling me and having the balls to call me, it just showed me the kind of characters that I was dealing with.
"Dana has definitely changed," Duran said. "Now it's all about the economics. It used to be a fighter friendly environment."
With countless competitors complaining about fighter pay and the Reebok deal where they have been forced to forego all of their previous sponsors in-cage, the UFC is under extreme heat for focusing only on profit while restricting the lives of the exact talents who comprise their product.
That's a shame, because even amidst a great year of fights in 2015, all of that action is seemingly being overshadowed by the UFCs blatant drive for profits and other out-of-the-cage issues like performance-enhancing drug (PED) use.
The UFC doesn't seem to care enough to stop what many deem as profiteering, and no fighters have truly taken a stand against the deep pockets of their employers. If that stays the same, again, nothing will change. Will the promotion ever be forced to treat their employees fairly, or will any that speak out against Reebok continue to be canned like 'Stitch?'