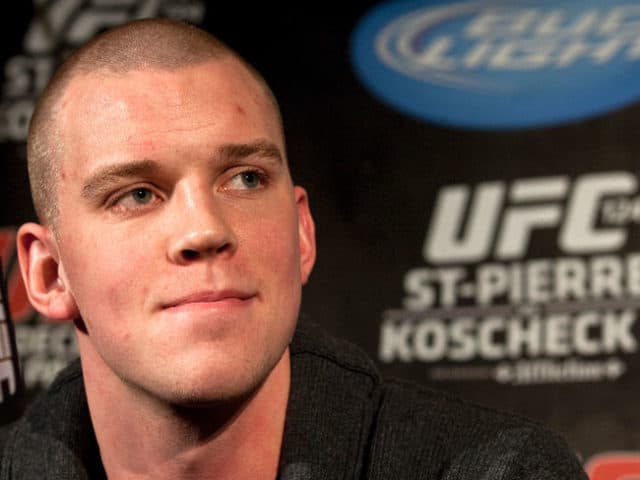 Stefan Struve's next fight is a dangerous heavyweight battle against last chance striker Alistair Overeem….but "The Skyscraper" has some demons of his own to fight first
UFC heavyweight Stefan Struve has had a bit of a rough time trying to get a fight lately, but it's not through lack of trying. The Dutch kickboxer was sent to the injury list by Mark Hunt back in 2013, after "The Super Samoan" shattered his jaw with a memorable and rather brutal left hook. Then came UFC 175.
"The Skyscraper" was set to face Matt Mitrione in his return from more than a year out due to heart problems, but a feinting episode backstage led to the giant Dutchman being pulled from the event just moments before the scheduled bout. Speaking with The MMA Hour, Struve described the events of that night:
"It started when we were still in the hotel room," he explained. "I started to feel a little dizzy and not well, and it took me a little bit to get over that. I ate something, we went down and I felt better. We actually went to the UFC's doctor and told them. They checked me, everything was good, all the functions were good, it had nothing to do with my heart. So we went into the locker room, started to warm up, everything went well. Then I went into the bathroom and I was just walking back and forth, and the tension just became more and more out of nowhere. It was incredible, something I've never experienced. And I just fell over onto a bucket of ice against the wall. I was really ashamed," Struve continued. "I didn't really know what happened. I didn't know what to make of it."
Luckily both guys got paid their show money for the event, as both had made weight for the scrap, but it clearly didn't help make Struve feel better about the whole fiasco. Rumours of Struve's heart condition causing the episode at UFC 175 began to spread, but it turns out it was actually the medication he was on that caused him to pass out.
"I was just oversensitive to some of the ingredients of the pill that I used to take. With the medication I'm taking right now, I just feel a lot better. I have a lot more joy in life. I was really… I had lost a lot of joy in life. I didn't feel like doing anything a lot of days, or going somewhere, looking forward to doing something, and my mood would change when I was driving over in the car. It was crazy."
"It really sucked, that day," Struve said. "We took a good look at everything that happened, and I think we figured it all out. I can't wait to fight December 13th and close this book full of bad things happening to me."
Stefan Struve's next fight is against Aistair Overeem at UFC on FOX 13 in December, but is that the right booking for him to return to? "The Reem" is known for his big punching power, and is arguably a tougher test for "The Skyscraper" than his original UFC 175 bout with "Meathead".
A loss for Struve against "The Demolition Man" probably wouldn't be that devastating for his career at this stage, although the same couldn't be said for the Greg Jackson's fighter if he slips up against his countryman in December. Let's just hope that "The Skyscraper" is 100 percent for his booking against Overeem, because he could be in deep water in the octagon that night if he doesn't have his mental game down….
If you enjoyed this story, please share it on social media!