Mauricio Shogun Rua got back to winning ways at UFC 190, winning a decision over old rival Antonio Rogerio Nogueira in Brazil. It wasn't exactly vintage Shogun, but he looked much improved from the man that got finished by both Dan Henderson and Ovince St. Preux in 2014. Now 4-6 in his last 10 UFC bouts, many figured a loss to Nogueira would be the end to an illustrious career for Rua, who had previously held the UFC light-heavyweight strap and was the 2005 Pride middleweight GP winner.
It looks as though we won't be seeing a quick turnaround for Shogun though, as Brazilian sports site Tatame.com reports that the Chute Boxe original will undergo shoulder surgery:
"According to the edition of Wednesday ( 26) UFC Tonight , official program of the organization, Shogun must undergo a surgical procedure on his right shoulder , and does not have a forecast back to training. The details of the injury were not revealed during the exhibition ."
Upon doing a little research, it appears this injury may date back as far as 2012, or maybe before, as I found this image by FightersOnlyMag that appears to show a separated shoulder before Rua's bout with Brandon Vera: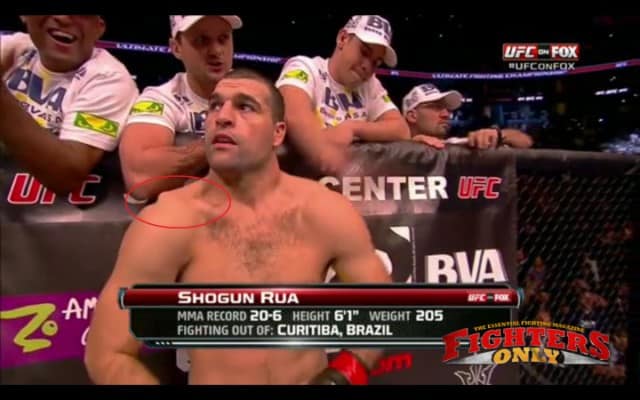 So this may be the final straw in terms of Rua's decision to carry on fighting. Although only 33 years of age, Shogun has been through many gruelling wars in his 33-fight career, and has also suffered particularly brutal losses since joining the UFC.
We'll keep you updated as any more news comes out on Mauricio Shogun Rua's shoulder surgery, but don't expect to see him fight again in 2015, at the least.