Twitter Reacts to Stipe Miocic's Shocking Knockout Of Fabricio Werdum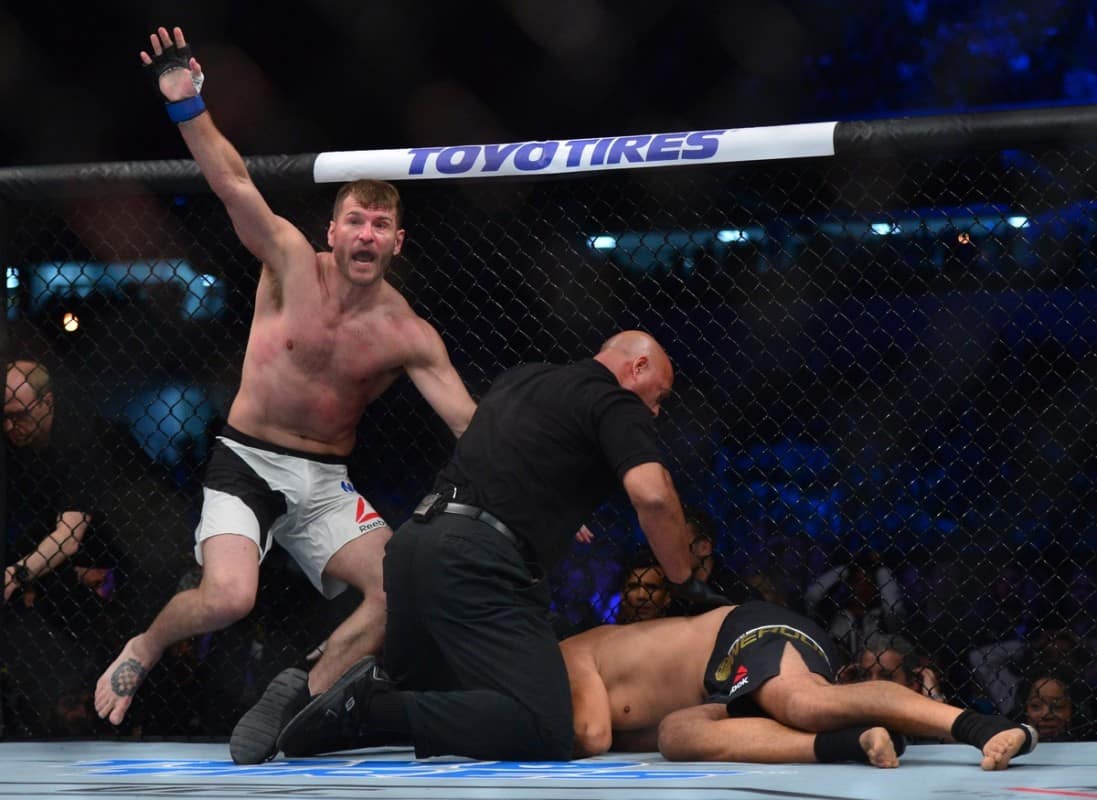 UFC 198 popped off from soccer stadium Arena Da Baixada tonight (May 14, 2016) in Curitiba, Brazil. The stacked card was headlined by Fabricio Werdum's first title defense against top contender Stipe Miocic.
The Cleveland native ended the night in the very first round with a counter right hook to the oncoming champion's chin, sending him crashing face-first to the canvas. And so a new heavyweight champion was crowned.
The co-main event saw top middleweight contenders Vitor Belfort and Ronaldo "Jacare" Souza duke it out to become potentially the division's next title challenger. "Jacare" was able to work his takedowns and top game, and smashed Belfort from mount on the way to a first round stoppage.
See how MMA Twitter reacted to these fantastic matchups:
Go @stipemiocicufc go!!!!! Amazing!

— michael (@bisping) May 15, 2016
Stipe!!!! #Killer

— Cub Swanson (@CubSwanson) May 15, 2016
The crowd is SILENCE. #UFC198

— Tommy Toe Hold (@TommyToeHold) May 15, 2016
OH FUCK

— caposa (@GrabakaHitman) May 15, 2016
Don't chase at HW. #ufc198

— The Spartan (@EliasTheodorou) May 15, 2016
— The MMA Podcast (@TheMMAPodcast) May 15, 2016
Don't worry, Werdum fans.

At the end of the day, he has to go back to Cleveland.

— Suzanne Davis (@SoozieCuzie) May 15, 2016
???????????? https://t.co/0rkBX3S465

— Dan Hardy (@danhardymma) May 15, 2016
Cleveland deserves this. They have to deal with the Browns after all.

— Joe Lauzon (@JoeLauzon) May 15, 2016
"I'M A WORLD CHAMP!!" #UFC198 https://t.co/rDyxujlCvu

— Yellow Power Ranger (@Sugarhigh5me) May 15, 2016
"Cleveland we got a champion baby!" @StipeMiocicUFC #UFC198 https://t.co/8UlqrHSY4C

— #UFC198 (@ufc) May 15, 2016
Congrats brother!! @stipemiocicufc you earned this the old school way! Congrats!!! @UFC #UFC198 #UFCBrasilNoCombate pic.twitter.com/bRYj3fHlUQ

— Tyron T-Wood Woodley (@TWooodley) May 15, 2016
It's easier to get power on your punches when the opponent literally runs face first into them. #UFC198

— Jonathan Snowden (@JESnowden) May 15, 2016
This might not be a popular opinion, but I'm not sure we learned anything new. Run face-first into a punch and you'll go out. #UFC198

— Patrick Wyman (@Patrick_Wyman) May 15, 2016
Werdum KO faces #UFC198 Last one make him look like Tyson Griffin pic.twitter.com/c60gtuj1mx

— ZombieProphet (@ZPGIFs) May 15, 2016
MMA Is fucking INSANE!

— Danny Castillo (@lastcall155) May 15, 2016
Mad disrespectful at times lol I swear https://t.co/KPGgorRMG5

— Derek Brunson (@DerekBrunson) May 15, 2016
Great card for your money.That's how you finished fights @ufc #UFC198

— Derrick Lewis (@Thebeast_ufc) May 15, 2016
Werdum all class. No surprise. What a night #UFC198

— Brian Stann (@BrianStann) May 15, 2016
All it takes is 1

This shit is not a joke#ufc198

— Pat Barry (@HypeOrDie) May 15, 2016
#UFC198 pic.twitter.com/9YJAHZ8C7G

— ZombieProphet (@ZPGIFs) May 15, 2016
They test for Coke too Jon pic.twitter.com/R6NbFF5cmF

— ZombieProphet (@ZPGIFs) May 15, 2016
And New. #UFC198 pic.twitter.com/UMnV2hA4gP

— SportsCenter (@SportsCenter) May 15, 2016
Dad bod vs. ???? : Who you got??? #UFC198

— The Spartan (@EliasTheodorou) May 15, 2016
Pull …….. guard? Against Jacare?

— Brett Okamoto (@bokamotoESPN) May 15, 2016
I'm a horrible person, but I like seeing Vitor lose.

Sorry, Jesus.

— Suzanne Davis (@SoozieCuzie) May 15, 2016
Vitor pulled guard on Jacare. Dude literally wants to be a martyr. I always thought he was just a delusional lunatic.

— Jordan Breen (@jordanbreen) May 15, 2016
Vitor wants out of this fight, and Jacare's going to oblige him. #UFC198

— Patrick Wyman (@Patrick_Wyman) May 15, 2016
Vitor dropping to guard and not fighting that takedown wasn't a good sign. ???? walked through his guard. Jacare was awesome tonight. #UFC198

— Kenny Florian (@kennyflorian) May 15, 2016
Vitor #UFC198 pic.twitter.com/EDIZSqr9dh

— ZombieProphet (@ZPGIFs) May 15, 2016
Stop this massacre… Vitor has kids… #UFC198

— James Krause (@TheJamesKrause) May 15, 2016
Vitor Belfort is the poster child for PED use. Dubious legacy. Quits in tough spots. Squandered potential. #UFC198 #UFC #MMA

— Danny Acosta (@AcostaIsLegend) May 15, 2016
My man tonight @JacareMMA Great Win! Great Finnish! beat a @ufc legend https://t.co/gsEPvAkDPb

— Roy Nelson (@roynelsonmma) May 15, 2016
Belfort, who has a Jiu Jitsu background but his main forte is boxing, never threw one punch. [12/97]

— Meltzer in the 90s (@ObserverQuotes) May 15, 2016
So yeah, that thing where Vitor doesn't get the immediate win and then falls to pieces… that will always be a thing. #UFC198

— Bloody Elbow (@BloodyElbow) May 15, 2016