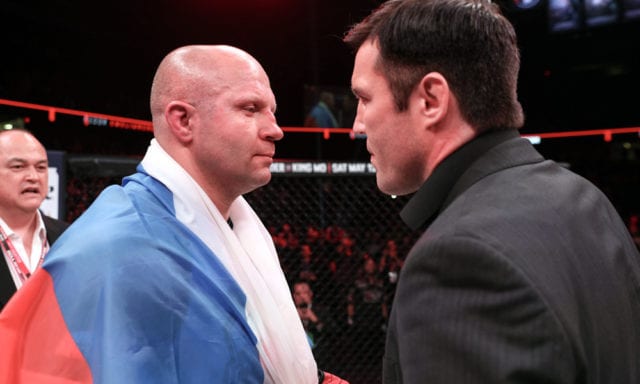 Scott Coker has revealed the timeline for the upcoming Chael Sonnen vs. Fedor Emelianenko bout.
This fight will serve as a semifinal bout in the ongoing Bellator MMA heavyweight tournament that will crown a new champion in the division.
As seen in the main event of the Bellator 198 event at the Allstate Arena in Rosemont, Illinois on the Paramount Network, the MMA Legend finished former UFC heavyweight champion Frank Mir with strikes in the first round of their Bellator Heavyweight Grand Prix Quarterfinal bout.
On the flip side, Sonnen was able to pick up a decision win over former UFC light heavyweight champion Quinton Jackson at Bellator 192 at The Forum in Inglewood, California in January to forward in the tournament.
Now, the MMA Legend and former middleweight and light heavyweight contender are slated to fight each other.
According to Bellator MMA President, they're looking at mid-October for this semifinal bout to happen.

"We're trying to keep it in close proximity," Coker told MMAjunkie. "I want both of the semifinals to happen close together."
The other semifinal bout that is slated to take place as part of this tournament will see Matt Mitrione take on Ryan Bader.
Coker did note that it's possible those fights could be staged on back-to-back nights with the idea of one fight airing on a Friday night on the Paramount Network while the other one would be exclusive to DAZN on Saturday night.
It's well known that the Viacom-owned promotion recently signed a five-year broadcast deal with the subscription streaming service that plans to launch in September.