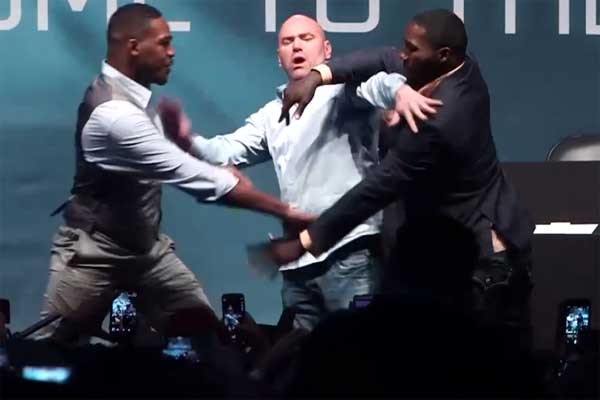 Anthony Johnson could still throw down with Jon Jones down the road.
Following his second failed attempt at capturing the UFC light heavyweight division's throne, 'Rumble' announced his retirement from mixed martial arts (MMA) competition. Johnson was submitted by Daniel Cormier in the second round of their UFC 210 main event last night (Sat. April 8, 2017).
Many fans were hoping that Johnson's tumultuous knockout power would be enough for the former Blackzillian to get the job done against Cormier, setting up a fight that many MMA fans have been gunning for between 'Rumble' and ex-light heavyweight champ Jon Jones. The pair were initially set to meet in the main event of UFC 187 back in 2015, but Jones embroiled himself in some legal issues out-of-competition and Cormier stepped in to win the vacated title against Johnson.
During his post-fight press conference Johnson seemed pretty firm on his retirement claim but noted that if he did ever return to the UFC he could take on 'Bones' in a bout a heavyweight (quotes via MMA Fighting):
"I'm an alpha male, he's an alpha male. I wanted to see what I can do against him," Johnson said. "I'm pretty sure he wanted to see what he could do against me, because you guys hyped it up so much, that I was supposed to be the guy to beat him and all this and that. You guys do your job very well, hyping things up, so props to you.

"But I feel I'm more, I don't know if I want to say sad (or) disappointed, for the fans, because I know they really wanted to see it. Day in and day out, people were always talking about Jon Jones and myself fighting each other, and it just never happened. Maybe if I decide to come back one day, we can fight at heavyweight or something like that."
Do you think we'll ever get to see Johnson and Jones test themselves against one another inside the Octagon?