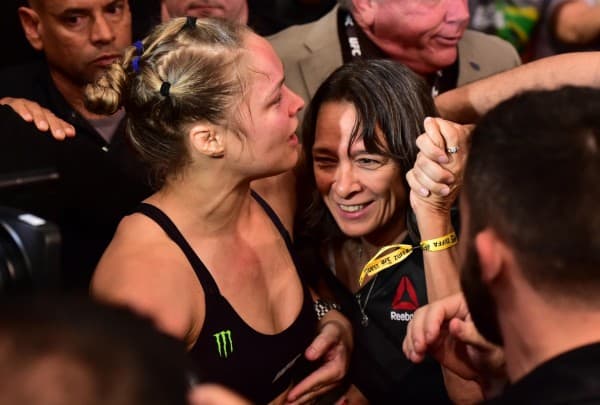 On a rare off week for the Ultimate Fighting Championship (UFC), much of the MMA media's attention is centered on the oft-discussed Ronda Rousey vs. Cris 'Cyborg' Justino 'superfight' that the two sides just can't seem to agree upon.
First 'Cyborg's' friend and ex-manager Tito Ortiz said that Justino had been offered the bout and was going to attempt to make 135 pounds (again), then UFC president Dana White denied that claim, and now UFC commentator Joe Rogan has thrown his name into the hat with his reasons why the fight might (probably) not work out.
Many, if not all, of those reasons presumably lie with 'Cyborg's' prior steroid use in conjunction with a 2011 win under the Strikeforce banner. Rousey has relatedly stated that Justino can make 145 pounds while using performance-enhancing drugs (PEDs), so it should be no problem for her to make 135 off them.
Yet even though 'Cyborg' has passed every drug test since that time including random testing for her recent Invicta FC win, she just can't seem to shake the criticism, whether it's from Rousey or Rogan. Not surprisingly, Rousey's mother AnnMaria De Mars has also joined their side, recently telling Submission Radio that she doesn't think it was 'Cyborg's' first time using steroids when she was caught, and that it's been proven that those who are using banned substances can still pass the testing:
"I am very skeptical. It's sort of like people who are alcoholics, who have a DUI and they get arrested for driving while they're intoxicated, "Oh, that's the first time I ever did that", and it never is. So generally when people get caught for alcohol or drugs, statistically speaking they have done it many times.
"Now I can't say about her, I don't know her at all, but all I can say is that generally when people get caught with alcohol or drugs, it's not the first time they have ever done it – unless they are the unluckiest person in the world. So I think anyone who has failed a drug test is under suspicion, and certainly if we have learnt anything from the Lance Armstrong case, it's that people can be doping and still pass those tests."
On one hand that may be a valid point, but it's also hard to compare an MMA fighter to a world-class cyclist competing in the Tour de France. True, both could be looking to acquire enhanced speed and endurance, but one is looking to acquire that, plus explosive strength and enhanced recovery time, for a short burst, while the latter is looking to maintain that endurance over a very much longer amount of time.
The drug testing and substances used may be a bit different for both sports, but regardless, it's clear that many MMA fighters besides 'Cyborg' have used PEDs extensively without being caught. According to Dr. De Mars, it's those that have been caught that are automatically assumed going forward, and 'Cyborg' is obviously pat of that group. She used the comparison of a cheating husband to convey her point:
"It's kind of like if you cheat on your wife and then later on you're like, "Well, how can you suspect me?" Well, because you did it before. It's a little hard to when you get caught at something then say "Whoa, how could you think I would do that?"
Dr. De Mars has some legitimate points, as it is easy to automatically assume Justino is on something considering her massively muscled and ripped physique, her scary knockout power inside the cage, and her ability to cut down to 145 pounds only to get back in the cage weighing upwards of 170 on fight day.
Perhaps the trio of Rousey, Rogan, and De Mars are correct in their assumptions, but 'Cyborg' has done nothing but prove otherwise thus far in her Zuffa tenure as Invicta FC champ.
And that could be just why we may never see this fight happen.