Her fighting career remains uncertain at best, but former UFC women's bantamweight champion Ronda Rousey will be returning to acting soon.
In a press release issued today (Tuesday, February 21, 2017), news came that Rousey will be featured on an upcoming episode of NBC's "Blindspot" as a female prisoner called "Devon Penberthy":
Rousey will be playing DEVON PENBERTHY: a female prison inmate who grew up in a working class family from the White Mountains of New Hampshire, and is serving time for transporting weapons across state lines. She is a tough, athletic woman who knows how to fight and handle a weapon.
While it sounds like a role obviously tailor made for Rousey, it can also be called a severe downgrade for the once-featured movie actress, who has played roles in high-budget feature films like "Fast & Furious 7," "The Expendables 3" and, "Entourage."
That should probably come as little surprise based on Rousey's recent results in the octagon, where the once-feared champion has lost her last two bouts by devastating knockout to Holly Holm and Amanda Nunes. She's yet to publicly address her 48-second defeat to Nunes at December 30's UFC 207 except for a canned statement on social media, and it's largely thought we may have seen the last of her in a MMA cage.
And in the cutthroat world of show business, one's window to enjoy the limelight – just like it is in the fight game – can close in an instant, as rumors circled about that Rousey's acting skills were beginning to become less and less desirable in the months after her upset loss to Holm.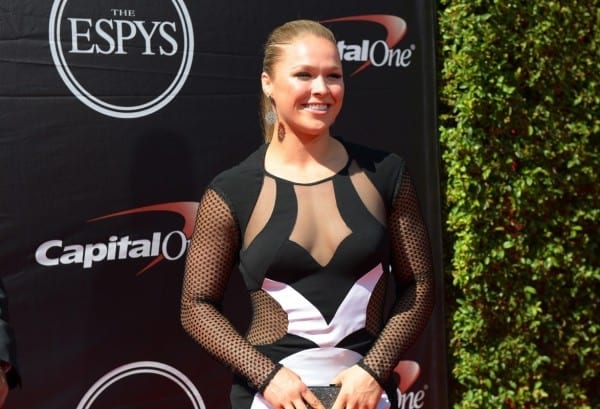 She was supposed to star in Mark Wahlberg's "Mile 22," but it was rumored her part was reduced significantly due to her acting skills – or lack thereof. A "Roadhouse" remake starring Rousey has also been delayed multiple times with no official release date known.
"Rowdy" is now doing guest roles on cable network crime dramas,  quite the setback from being one of the most sought-after female faces in Hollywood less than two years ago. The MMA great doesn't need the money, but it doesn't seem like something that will occupy the competitive drive of the Olympic bronze medalist.
Hey, there's still fighting, as many feel she could rekindle her past success if she'd just leave a certain downtrodden head coach.