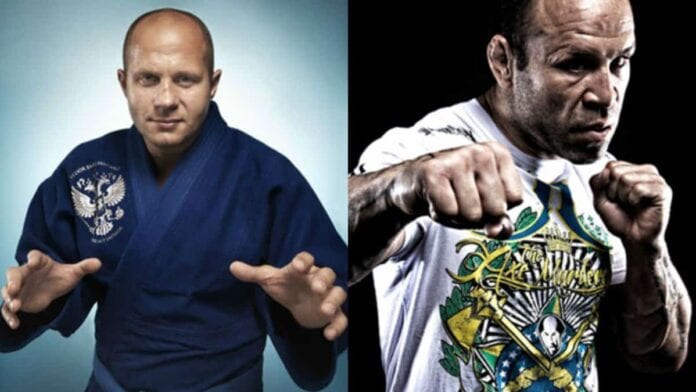 Wanderlei Silva signed a multi-fight deal with Bellator and Rizin MMA a few week's ago, and there is now speculation that the Silva could fight Fedor Emelianenko down the line.
Silva will compete at an April 17 event at Nippon Gaishi Hall in Nagoya, Japan in a grappling tag match, the rules for which will be announced soon. Broadcast plans for the event have yet to be announced. His tag team partner was not announced, but his opponents whereas and will be against Kazushi Sakuraba and Hideo Tokoro.
However, after that match, Silva is available to fight Emelianenko in the summer.
Rizin MMA president Nobuyuki Sakakibara recently spoke with Bloody Elbow and commented on the possible fight.
"Wanderlei will most likely be making his appearance in an MMA event at some time in the summer or autumn of this year," Sakakibara told BloodyElbow.com through a translator.
"I do believe that both of them have that fight in mind for sometime down the line," said Sakakibara. "I feel like they already know. When I negotiated with Wanderlei, he definitely brought up Fedor's name. But as far as Fedor, I haven't heard anything from his mouth. He is not the type of fighter to pick his opponent. If all the terms are right, there is no reason for him to turn it down."
"Is that what fans really want to see? If the demand is there and fans talk about it enough, am sure it is eventually going to happen, but I want to be sure that there is demand for it."
"When I met with Fedor last month, he was ready to fight at anytime. He just wanted to fight as soon as possible. He wants to fight constantly. That is where his mindset is. There has to be a storyline behind it and a meaning for the fight."
Silva (35-12-1-1) is 3-2 in his last five bouts and is coming off a win over Brian Stann in May of 2013 by second round KO.
Emelianenko returned to MMA in a big way as he defeated Jaideep Singh at Rizin Fighting Federation day 2 on December 31st, 2015 by first-round TKO.