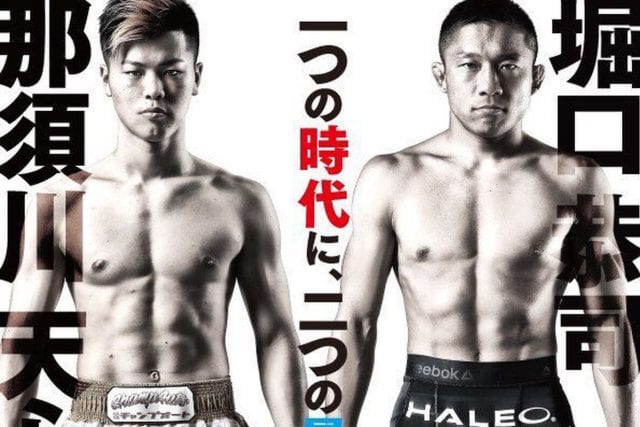 Today's (Sun., September 30, 2018) Rizin 13 featured a rarely-seen spectacle in combat sports.
Former UFC title challenger and current Rizin FF champion Kyoji Horiguchi ventured outside of his comfort zone to take on Japan's biggest kickboxing star Tenshin Nasukawa under kickboxing rules. Horiguchi put on a valiant effort over the course of the three-round bout, landing some power shots and holding his own.
Nasukawa rallied late thanks to a final-round cartwheel kick, however. He emerged with a unanimous decision victory. Horiguchi held his own in a ruleset outside of what he's used to in mixed martial arts. The Japanese champion gave a touching tribute to his mentor Morifumi 'Kid' Yamamoto, who passed away earlier this September.
The defeat was Horiguchi's first since he lost to all-time great former UFC champion Demetrious 'Mighty Mouse' Johnson more than three years ago.
An Amazing Crossover Fight
Watch the highlights of Nasukawa's second-round flurry here:
Tenshin Nasukawa jumps into hyperdrive to close R2 #RIZIN13 @FITETV #RIZINFF pic.twitter.com/iNLhofitXL

— caposa (@Grabaka_Hitman) September 30, 2018
Check out Nasukawa's vicious kicks and Horiguchi's power punches in slow motion here:
I can't believe there are more fights after this. That main event was absolutely fantastic. @TeppenTenshin and @kyoji1012, you guys are awesome. Thank you! #RIZIN13 #RIZINFF #RIZIN2018 pic.twitter.com/Rb8EOtZwlw

— Kyle Johnson (@Maldobabo) September 30, 2018
Finally, watch the video of Nasukawa's awe-inspiring third-round cartwheel kick that helped him seal the huge win:
Round 3 Highlights of Tenshin Nasukawa vs Kyoji Horiguchi! #RIZIN13 pic.twitter.com/YQrAjlxpD6

— Yodsanan (@_Yodsanan) September 30, 2018
A Star Rises
Also on the card, Jiri Procházka beat Jake Heun with a first-round onslaught. The rising star has won six in a row. Watch his latest stoppage, his 21st in 22 wins:
Jiří Procházka (22-3-1) closes the show at #RIZIN13, taking out Jake Heun with his trademark first-round barbarism. "Denisa" rides a six-fight win streak and has finished 21 of 22 victories, 20 in the first round, and 19 by knockout. #RIZINFF #RIZIN2018 pic.twitter.com/LnmdLfS65n

— Kyle Johnson (@Maldobabo) September 30, 2018
An Old UFC Veteran Continues To Impress
UFC veteran Daron Cruickshank also scored another impressive finish in Rizin. Cruickshank floored fellow UFC veteran Diego Brandao with a brutal knee. Watch it right here:
Daron Cruickshank's RIZIN violence tour continues. #RIZIN13 @FITETV #RIZINFF pic.twitter.com/ykGOOebGSF

— caposa (@Grabaka_Hitman) September 30, 2018
All-time great former PRIDE GP champion and UFC vet Mirko Cro Cop picked up at the event. He finished Roque Martinez in the final seconds of the opening round via TKO.
Full Rizin 13 results are as follows:
Jiri Prochazka def. Jake Heun via TKO (punches) – Round 1, 4:29
Mikuru Asakura def. Karshyga Dautbek via unanimous decision
Daron Cruickshank def. Diego Brandao via knockout (flying knee) – Round 2, 0:17
Tenshin Nasukawa def. Kyoji Horiguchi via unanimous decision (kickboxing bout)
Miyuu Yamamoto def. Andy Nguyen via unanimous decision
Mirko Cro Cop def. Roque Martinez via TKO (doctor stoppage) – Round 1, 4:58
Bob Sapp def. Abdelrahman Shalan via unanimous decision
Haruo Ochi def. Mitsuhisa Sunabe via knockout (punch, soccer kicks) – Round 3, 2:53
Kai Asakura def. Topnoi Tiger Muay Thai via unanimous decision
Ayaka Hamasaki def. Mina Kurobe via submission (kimura) – Round 1, 4:45
Manel Kape def. Yusaku Nakamura via technical submission (rear-naked choke) – Round 3, 4: 27
If you enjoyed this story, please share it on social media!