Rich Franklin vs. Cung Le: Head-to-Head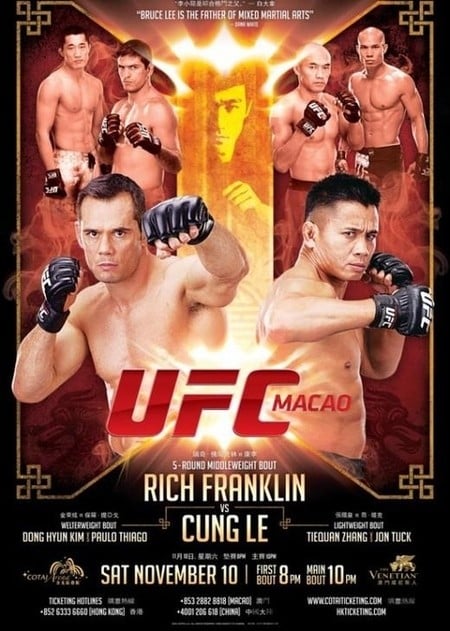 This weekend, the UFC will be making its first ever trip to China, which totally explains why they decided to stack a garbage ass card with Japanese fighters and put a Vietnamese guy in the main event, because close enough, right kids?
All kidding and racially misguided motivations aside, we will be in for a hell of a fight when Rich Franklin and Cung Le throw down this Saturday. Both men are known for turning in crowd-pleasing performances each and every time they step into the octagon — thanks in part to Rich's fearless demeanor and Cung's Cirque du Soleil-esque kicking ability — and both have gone win-loss in their last four fights. It's not exactly a must win for either of these company men, but with Franklin currently standing at around a -300 favorite heading into fight night, we figured we would take a look at just how well these two match up, Head to Head style. Enjoy.
AGE
Franklin: 38
Le: 40
Advantage: Franklin
SIZE
Franklin: 6'1″, 76 inch reach, walks around at roughly 220 lbs.
Le: 5'10″, 69 inch reach, walks around at roughly…you know what, it doesn't matter.
Advantage: Clearly Franklin
LAST TWO FIGHTS RESULTED IN
Franklin: UD loss to Forrest Griffin at LHW (UFC 126), UD win over Wanderlei Silva at Franklinweight (UFC 147)
Le: TKO loss to Wanderlei Silva (UFC 139), UD win over Patrick Cote (UFC 148)
Advantage: Franklin
FINISHING RATIO
Franklin: 86.2 % (25 finishes in 29 victories)
Le: 89 % (8 finishes in 9 victories)
Advantage: Le by a Scott Smith
IMDB ACTOR PROFILE
Le: Small roles in Pandorum, The Man With the Iron Fists, Tekken, Fighting, and The Grandmasters (currently in post production)
Franklin: Leading role in Cyborg Soldier, 3 film roles that begin with the title "Coach," and a resume that reads: "Was Knocked-out by Lyoto Machida at Inoki Bom-Ba-Ye Festival on December 31st 2003." OH COME ON, FILM NERDS!
Advantage: Le
BETTER BROKEN NOSE
Franklin: Compliments of Anderson Silva
Le: Compliments of Scott Smith & Wanderlei Silva
Advantage: Dead even. While Le's broken noses were undoubtedly more brutal in appearance, Franklin was also given a permanent black eye to compliment his busted schnoz. A black eye that, each and every time he looks in the mirror, serves as a constant reminder that he will never again be a champion. OK, maybe Rich takes this one due to emotional trauma.
SALARIES
Franklin: 75k/75k to show/win
Le: 150k to show, no win
Advantage: Le
TOUGHNESS
Franklin: Knocked out/retired Chuck Liddell with a broken arm at UFC 115.
Le: Only uses turn of the century medicine to heal his ailments. Has the nastiest hammertoe you will ever see.
Advantage: Franklin
GREATEST KNOCKOUT
Franklin: One-punched Nate Quarry into a two-year absence from the sport.
Le: Single handidly destroyed Scott Smith's ability to score heroic comebacks forevermore with a spinning back kick to the turd factory.
Advantage: Le
Conclusion: According to the CagePotato fight scientists, this one is pretty much even, with both fighters coming away victorious in 4 categories and tying in what would be the deciding one. But based on his massive size advantage, we'll have to take Franklin by a close but decisive unanimous decision.
Agree or disagree here for a chance to win a Bruce Lee/Movember shirt from Lancaster LTD!
-J. Jones