Jeremy Stephens Spoils Renan Barao's Featherweight Debut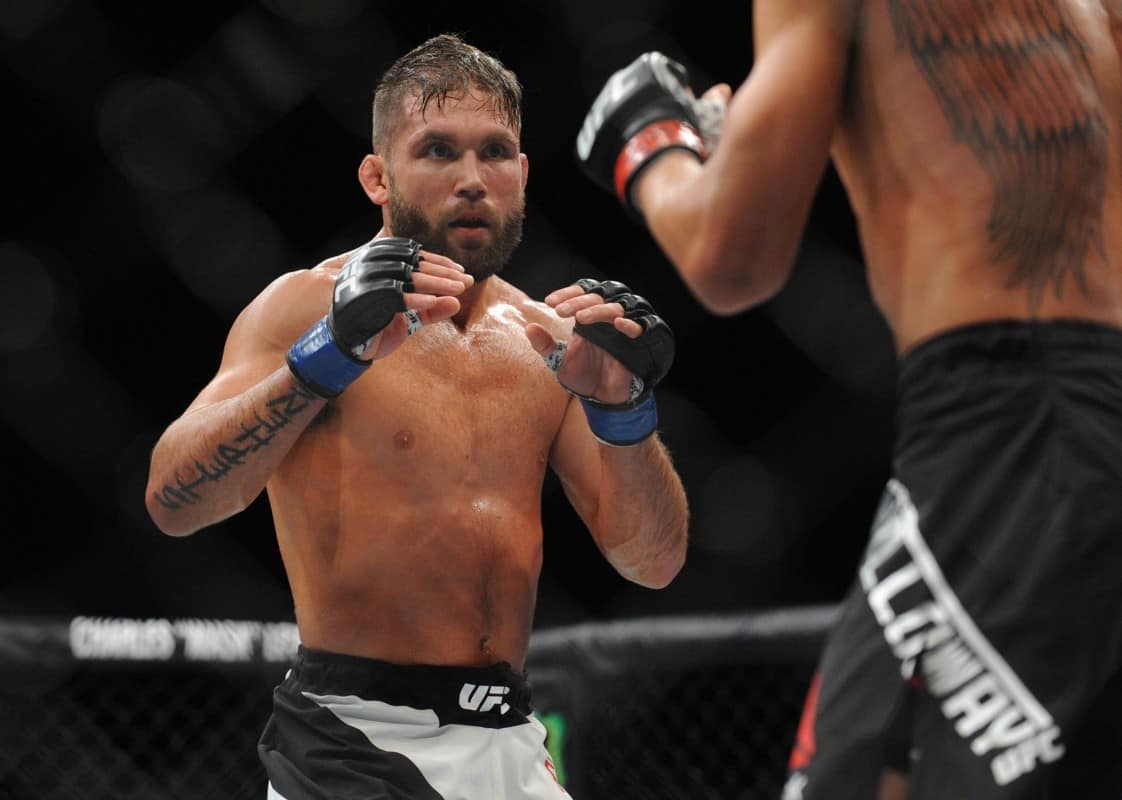 Former UFC bantamweight champion Renan Barao had no easy task when he moved up to featherweight to face Jeremy Stephens in the co-main event of tonight's (Sun., May 29, 2016) UFC Fight Night 88 from the Mandalay Bay Events Center in Las Vegas, Nevada.
Barao hadn't fought since losing a failed bid for the title in his rematch with TJ Dillashaw at last July's UFC on FOX 16. Stephens, meanwhile, dropped a decision to surging contender Max Holloway in his last contest at UFC 194 after emphatically finishing Dennis Bermudez in highlight reel fashion at UFC 189. Overall, "Lil' Heathen" had his back against the wall with losses in three of his prior four bouts.
It was a statement fight for both, and it began with Barao landing an inside leg kick followed by a high kick. Stephens came back with some stinging low kicks in response. Barao snapped a strong two-punch combination, scoring with another after grabbing a Stephens kick. Stephens countered with a one-two combo, and Barao landed a huge right hand in a scramble. "The Baron" opened up with punches and kicks, causing Stephens to swing and miss widely.
Barao shot for a takedown that Stephens defended initially, and Barao clinched to land some knees to the legs. Stephens broke free and ate another shot, clinching on the fence. Both unleashed big shots in an exciting exchange, with Barao going for his spinning back kick to the body. Barao was deep on a takedown that didn't materialize as the bell sounded on the first frame.
Barao came out with a low kick to start the second, and Stephens landed a solid right hand. Barao missed another takedown and Stpehens pooped a jab, but Barao landed a few solid shots. All of the sudden Stephens exploded with huge uppercuts, wobbling Barao again and again. Barao somehow landed a knee, but Stephens hit him with one more big shot. Stephens clinched on the cage but Barao broke to throw a spinning back kick that partially landed. A stiff right and a singing left came from Stephens, and Barao finally secured his first takedown. Stephens got back up to end the second frame.
The fight started slow in the third, with Stephens missing to leave an opening for some brief shots from Barao. Stephens landed a hard body shot and Barao a straight before clinching, but Stephens again stayed upright. A slugfest ensued with Barao landing some good shots. The fighters smiled at one another a they flung shots, and Barao was able to take Stephens to the mat.
He secured it to ground Stephens, looking to take his back. But "Lil' Heathen" got out, and scored with another one of his vaunted uppercuts. Barao landed a combo, but Stephens responded with uppercuts and a big right hand. Barao scored a hard left hook and the fight was wild as the final bound sounded on a close and exciting affair.
Ultimately Stephens took home a unanimous decision with a 29-28 score on all three judges' cards.
Final Result: Jeremy Stephens def. Renan Barao via unanimous decision (29-28, 29-28, 29-28)