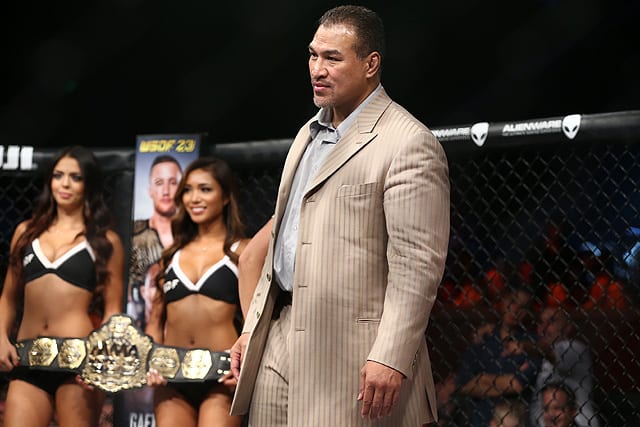 After nearly 30 years of competing, 47-year-old Ray Sefo, who currently serves as the president of fight operations for the Professional Fighters League, has finally decided to call it a career:
"If I didn't fight again by May of this year, especially when the season starts, there's just no time to put in a camp," Sefo said Monday on The MMA Hour. "I thought come May, if nothing happens, then I'm done."
The season that Sefo referred to is the inaugural season for the PFL, which will kick off this Thursday (June 7, 2018) from the Hulu Theater at Madison Square Garden in New York City.
As far as his own career goes, Sefo is known most for his legendary kickboxing career, but he said that he has fought professionally 109 times in kickboxing, boxing, and mixed martial arts. His last fight took place in 2013 when he suffered a second-round TKO defeat in an MMA bout to Dave Huckaba under the World Series of Fighting (WSOF) banner, which he owned.
When looking back on his career, Sefo said that all of his fights were memorable, but many will remember him most for his time in K-1 and he admitted that his 2001 victory over Mark Hunt in Japan remains a fight that 'sticks out' to him:
"The one that sticks out is Mark Hunt," Sefo said. "Everybody talks about that fight."
Moving forward, Sefo will continue his work with PFL, while coaching as well. And after a lengthy and successful career in combat sports, Sefo seems content with how things have played out:
"I thank God every day that I get to do what I love to do and what I'm passionate about," Sefo said. … "Back then I never really saw myself sitting here. But I can tell you that I thank the good lord every day that I do what I do."