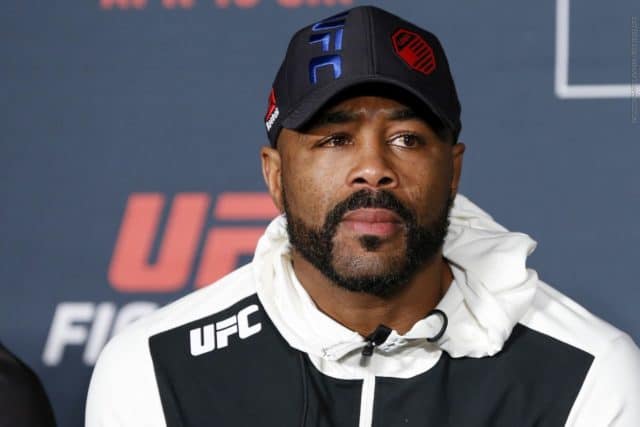 Rashad Evans has issued a farewell message after the announcement of his retirement.
Over the past few years despite his lack of performance inside the Octagon, Evans continued to push forward with his pro-MMA career. He has dropped five consecutive contests with two of those bouts taking place at 185 pounds.
In his latest bout that aired on the preliminary portion of the UFC 225 pay-per-view card earlier this month in Chicago, Illinois at the Allstate Arena, Anthony Smith connected with a knee on Evans just under a minute into the fight that rendered him unconscious.
Evans joined the inaugural episode of Ariel Helwani's MMA Show earlier this week and officially announced his retirement.
Fast forward a few days, Evans took to his official Instagram account to post his farewell retirement message by writing the following:
"Deciding to retire was the toughest decision of my life because everything in me told me I need to keep fighting. I've fought my whole life in some form since I could remember so saying goodbye to my long time companion is hard. Fighting to me has never been about the actual fight itself. It was that in between space that exists in the fight where the "I" completely dissolves & I transform into something else. In that space the fear, doubt, negativity & life worries could never follow me. Shedding these worldly feelings to just be in the space of pure expression is something I will miss very much.

Riding the emotional rollercoaster that a big fight brings is the most amazing feeling in the world and going through those experiences have made me grow into a strong man that I'm thankful for. I want to thank all my fans out there who have supported me during this journey. You fans have inspired me so much throughout the years. Many times when I couldn't find the motivation to push myself I thought about you guys. Thank you from the bottom of my heart for pushing me in every way to be the person I am today. Even the "haters" deserve a thank you because you guys provided a deep well a motivation to draw from. Thank you to the UFC for giving me the platform to live my dream. Thank you to Dana White who is one of the most caring ppl I know, even though he hides it very well with his tough exterior.

Thank you to Lorenzo Fertitta who bought me my first nice suits & who always made sure he let me know he valued me as person rather than just a fighter. Thank you to all my coaches throughout the years. Thank you to Mike Vanarsdale and Joaquin Rodriguez who were two of my favorite coaches they brought out the best competitor in me. Thank you to Mike Winkeljohn who had the ability to know exactly what standup technique was gonna end the fight. Winks was like a psychic sometimes with his pre fight prophecies. Lol. Thank you Henri Hooft, Greg Jackson, Chris Lutrell, Mario Sperry, Greg Jones, Kami Barzani, Ricardo Almeida, Renzo Gracie, Rolles Gracie, Jon Chaimberg, Rodney Brewer, Tony Villani, Andrew Spruill, Roan "Jucao" Carneiro & my man Mark Henry. Excited for what's next!"
If you enjoyed this story, please share it on social media!