Rafael dos Anjos: I Think Nurmagomedov Has A Tough Task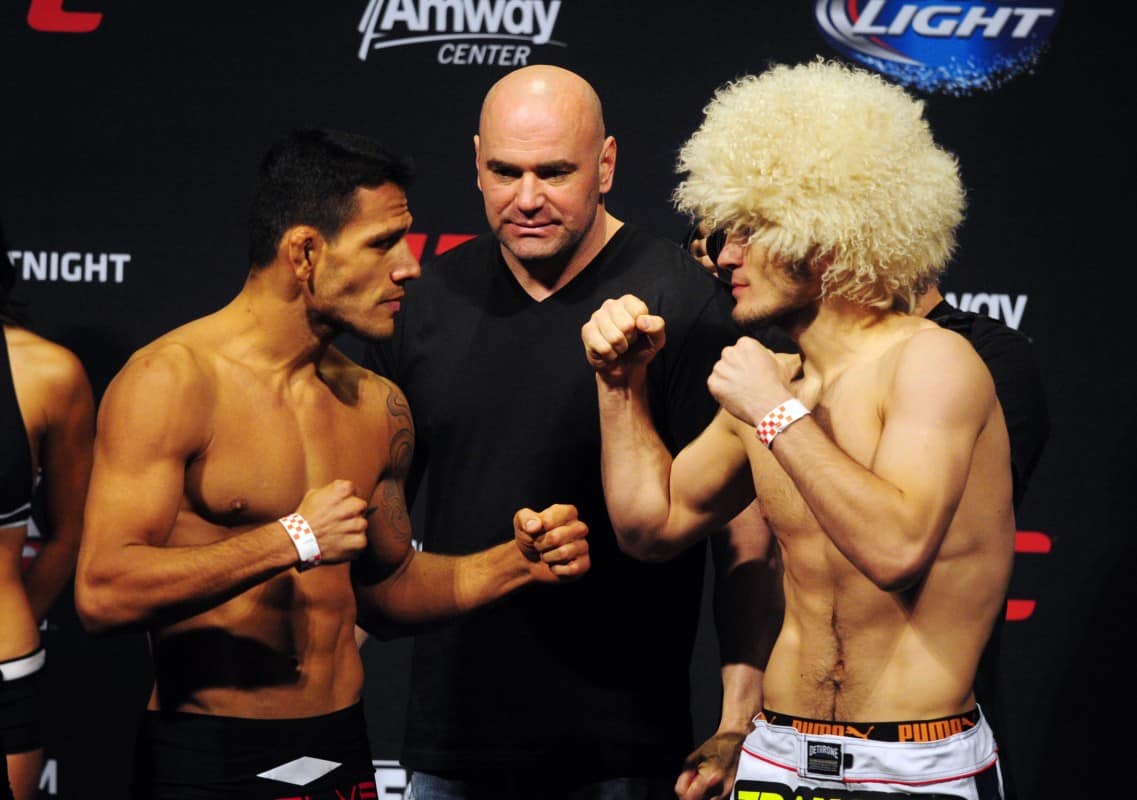 Even though he was diagnosed with a torn MCL and had surgery on his nose following his dominant win against Anthony Pettis in the main event of March 14's UFC 185 from Dallas, Texas, new 155-pound king Rafael dos Anjos is still enjoying his time as champion.
On by far the hottest streak of his lengthy mixed martial arts (MMA) career, dos Anjos is taking some time off on his doctor's orders. The champion understandably wants to get back to training, but given the murderer's row of contenders he'll face upon his return, he doesn't want to come back at anything less than full health.
Dos Anjos recently discussed his current situation with MMAjunkie, noting that he has to complete his rehabilitation carefully:
"I love training, but I need to rest and heal up. I'm still doing my rehab. My knee isn't quite well enough for training yet, but life as a champion has been great. I'm excited to come back and train again.
"I don't like to be hurt, but I've got to be careful. I don't want to start training when I'm 80 percent or 90 percent. I want to be 100 percent."
Planning to return to the Octagon sometime around this November, dos Anjos is taking a much-needed hiatus after an insane five fights in just 11 months. He's currently having a little fun with his family, as it's not quite time to get back to business just yet.
Thanking his supporters, dos Anjos deemed this time off as simply the beginning of a long reign as champion:
"I'm just enjoying my life and enjoying my family. I want to thank everyone for all the support. This is just the beginning. I'm going to keep this belt a long time."
Even though he's still on the sidelines, there's one fight that dos Anjos' gaze will be heavily fixated on, and that's UFC 187's pivotal Khabib Nurmagomedov vs. Donald Cerrone for the next perceived shot at the belt.
Dos Anjos handed Cerrone his most recent loss back at UFC Fight Night 27 in August 2013, but Nurmagomedov dealt him his last defeat thanks to a dominating display of wrestling at April 2014's UFC on FOX 11.
With Nurmagomedov undefeated but coming off a serious knee injury that forced him out of his originally scheduled UFC 178 bout with Cerrone, he's not quite sure who will win the fight. Yet even despite "The Eagle's' question marks, dos Anjos wants him to win so he can clear up their unfinished business:
"I think Khabib (Nurmagomedov) has a tough task. Cerrone is a tough guy. I fought them both, and I know Cerrone is a tough fight for anyone. He's a great fighter. But I don't know how Khabib is going to do with that. He's had to train through injuries, and he hasn't fought in a while.
"Cerrone has been fighting a lot. So it's going to be a good fight. I want Khabib to win because I would love to fight him again."
Dos Anjos has taken the true stance of a champion by asking for the exact opponent who's already beat him. Will he be able to soar past Nurmagomedov if he gets a second chance?
Photo Credit: David Manning-USA TODAY Sports