Rafael dos Anjos Earns Decision Win Over Tarec Saffiedine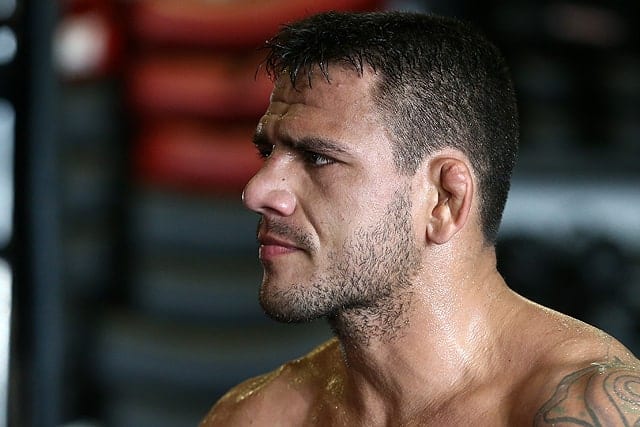 Rafael dos Anjos (26-9) made his welterweight debut a successful one against Tarec Saffiedine (16-7).
Right away Saffiedine went for a high kick. A body kick was there for dos Anjos. A kick was caught by Saffiedine and he took down the former UFC lightweight champion. A kimura attempt from the bottom didn't go anywhere for dos Anjos. They stood back up and Saffiedine pushed his opponent against the fence.
They separated and dos Anjos put some pressure on the former Strikeforce welterweight title holder. He took Saffiedine down.They stood back up, but dos Anjos kept pressuring his opponent. He got in some body shots and punches upstairs in close range as the final horn sounded.
The second round began and dos Anjos kept making it a close-range fight. Saffiedine avoided a takedown attempt. He pushed his opponent towards the fence, but had the position reversed. Saffiedine went for a takedown, but it didn't pan out. The round ended with dos Anjos in control.
At the start of the final frame, dos Anjos landed a body kick. A right hook connected for Saffiedine. A jab was there for dos Anjos. A knee to the body in the clinch found its target for dos Anjos. Like the first two rounds, the clinch work was there for dos Anjos, who landed a body kick. Saffiedine popped him with a jab. The round ended on a missed high kick from dos Anjos.
All three judges scored the fight for dos Anjos.
Final Result: Rafael dos Anjos def. Tarec Saffiedine via unanimous decision (30-27, 30-27, 29-28)