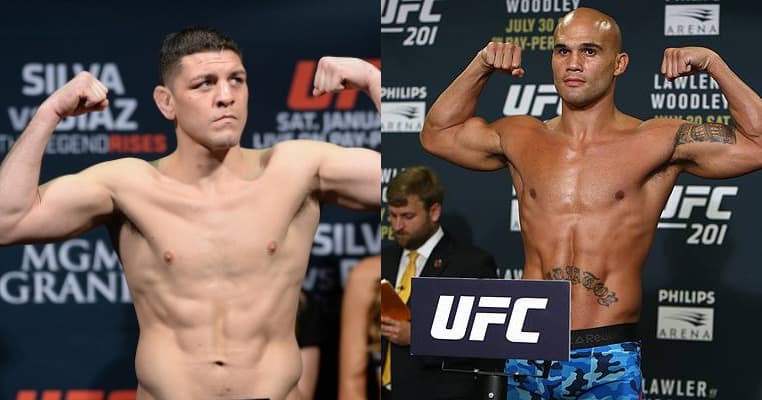 Former Strikeforce welterweight champion and UFC fan favorite Nick Diaz hasn't competed since surrendering a decision loss to Anderson Silva in January 2015, although that loss was later changed to a no-contest after Silva tested positive for multiple banned substances. Diaz also tested positive for Marijuana metabolites, leading the Nevada State Athletic Commission (NSAC) to hand him an 18-month suspension as well as a fine.
Diaz's suspension ended this past August, but he was only recently cleared to fight after paying his fine. With that being said, the Stockton native doesn't currently have a fight lined up, but that isn't because the UFC hasn't offered him one according to color commentator Joe Rogan.
Speaking on a recent edition of his podcast, Rogan said that Diaz turned down a bout with former welterweight champion Robbie Lawler:
"Apparently they offered Nick Diaz Robbie Lawler, and Nick passed on it," Rogan said.
This potential bout would actually be a rematch, as Diaz and Lawler did battle back at UFC 47 in 2004. Diaz got the better of the "Ruthless" one 13 years ago, scoring a brutal second round knockout victory.
Lawler hasn't competed since surrendering his title to Tyron Woodley last July at UFC 201. He was rumored to be taking on Donald Cerrone at November 12's UFC 205, but he said that he needed more time after being knocked out by Woodley.
The fight would certainly make sense given Diaz's star power and the fact that Lawler is looking to bounce back.

Would you like to see this rematch?