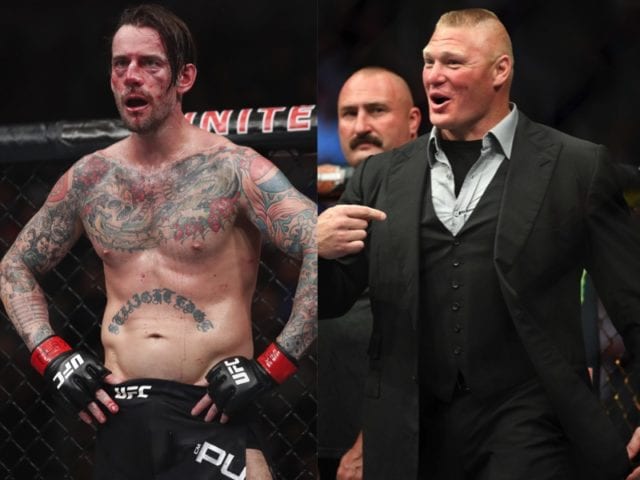 The UFC has looked a lot different since being sold back in 2016.
Since being purchased by Hollywood giant WME-IMG, many fans claim the UFC has begun to look a lot more like WWE.
Belts, rankings, wins – none of these things seem to play a significant role in a fighter's success with the promotion under the new regime. Trash talking and WWE-style promotion has become the new norm for the mixed martial arts (MMA) promotional juggernaut.
This past weekend (Sat. July 7, 2018) Daniel Cormier became the second ever dual-weight champion in UFC history when he defeated Stipe Miocic for the heavyweight crown in the main event of UFC 226. Cormier also holds the UFC light heavyweight title.
In the heavyweight division, Curtis Blaydes seems like the next legitimate challenger for the heavyweight strap. Cormier addressed Blaydes in his post-fight press conference and noted that at this point in his career he would find it difficult fighting a lesser-known opponent like "Razor."
Instead, Cormier is expected to fight the returning Brock Lesnar in his next heavyweight bout. "The Beast" was in attendance for Saturday's PPV and confronted Cormier inside the cage after his victory, which resulted in a shoving match:
"I'm at a point now where it's going to be very difficult to fight a Curtis Blaydes," Cormier said. "It's like, do you want to go to war and make so much less money? If I fight Brock Lesnar, I'm getting paid."
Blaydes recently took to Twitter to voice his frustrations over the new WWE-style promotion taking place in the UFC. He pointed to the recent CM Punk hysteria and Brock Lesnar's return as prime reasons for his concerns:
Tired of all the politics ??‍♂️ like is it even still even about fighting first CM Punk now @BrockLesnar I'll just continue to grow as a martial artist and become more dangerous and I refuse to resort to that WWE bs fake arguing just to draw in lame ass casual fans pfft

— Curtis Blaydes (@RazorBlaydes265) July 8, 2018
??‍♂️ still don't like all The postering and fake beef

— Curtis Blaydes (@RazorBlaydes265) July 8, 2018
I'm a fighter not an actor

— Curtis Blaydes (@RazorBlaydes265) July 8, 2018
What do you think I've been doing the last 6 years ?

— Curtis Blaydes (@RazorBlaydes265) July 8, 2018
Too bad he wasn't clean

— Curtis Blaydes (@RazorBlaydes265) July 8, 2018
You know he's a roid monkey right

— Curtis Blaydes (@RazorBlaydes265) July 8, 2018