Former UFC welterweight champion Georges St-Pierre has been gone for a long time now. Even before his post-UFC 167 retirement, 'GSP' later revealed he had completely lost the urge to compete. Vacating the belt after a narrow win over Johny Hendricks, St-Pierre left a huge hole in the division. Since that time, rumours and reports of a highly anticipated return have simply not materialised. Refuting the former champ's comments, Dana White claimed 'GSP' did not want to fight again.
Contract disputes with the UFC led to St-Pierre's heavily reported UFC 206 return falling apart. Apparently the Reebok deal was the main sticking point, and 'GSP' claimed he was now a free agent. Again shooting down these comments, the UFC president said St-Pierre was still under contract. Since that whole mess, the Toronto-based UFC 206 card has undergone massive change.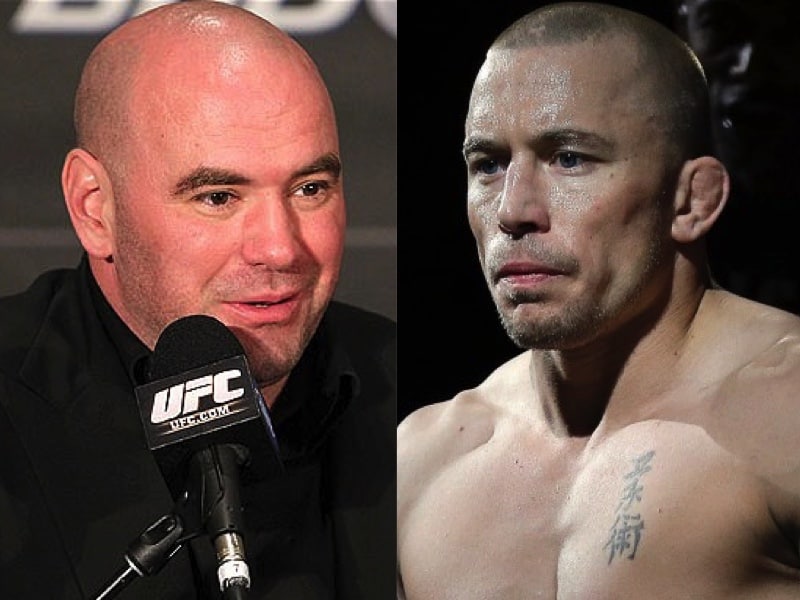 Is GSP Coming Back at UFC 206?
Seeing stacked fights featuring Donald Cerrone, Matt Brown, Anthony Pettis and Max Holloway added, UFC 206 has also taken some big hits. First Rashad Evans pulled out of his middleweight debut with Tim Kennedy, then we lost the main event yesterday. With Daniel Cormier injured, the event is now headlined by Holloway vs. Pettis, but is there more in store? According to Fight Network's Robin Black, there could well be:
""I was sat right next to Georges St-Pierre for two and a half hours. One of the things he told me was he is staying in shape for UFC 206. Two weeks out, GSP is in fight shape and he wants to fight, that's a fact. Can these guys get this thing done? That is in play for sure. (Georges manager) is on the phone to them right now, this is in play. All of a sudden for thirteen days, it's nothing but (GSP). This mentality that it's all about the lead up, that's old school. Even in movies, there's no proof that it works in this crowded landscape. It's the hot ten days before that are the hot ten days. He's training as if he's fighting on that day."
Sound familiar? See Nate Diaz vs. Conor McGregor at UFC 196 for a reference point. The full interview with Robin Black and co.: