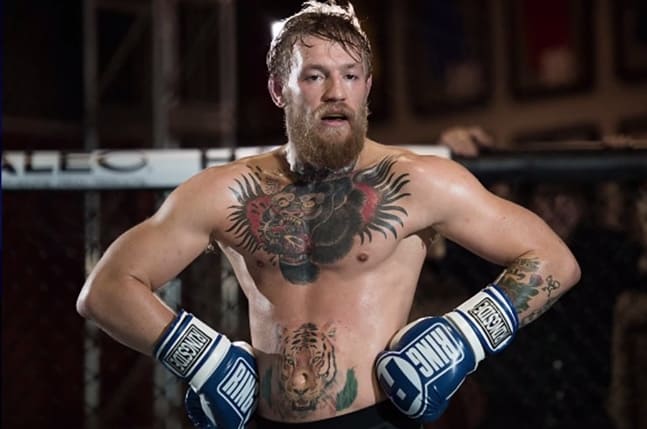 Conor McGregor's longtime training partner Artem Lobov is set to help prepare for "The Notorious" in the bout between his teammate and Floyd Mayweather. Ahead of the controversial mega-fight, "The Russian Hammer" revealed he's a bit surprised at what weight the fight will take place.
As you've likely heard, the August 26th match-up will be contested at 154 pounds. Since McGregor is the reigning UFC lightweight champ at 155 pounds, the fact he's agreed to fight at that weight is clearly understandable. Since Mayweather was fighting at 147 pounds prior to his initial retirement, however, there had been talk a bout with McGregor would be at a lower weight than 154.
Lobov recently spoke to MMA Junkie and had this to say about the contracted weight for Mayweather vs. McGregor:
"That was a bit of surprise for me, to be honest," Lobov said. "I thought Mayweather would try to push the weight as low as possible. This suits us perfectly. Conor will be a lot bigger than Mayweather now. He'll be a lot stronger than him. This all plays into our hands."
When you consider that McGregor is big for lightweight, and that he twice competed at 170 pounds last year, you can understand the reasoning behind these comments. McGregor will be considerably bigger than the undefeated boxing star.
But since "Money" is one of the greatest pugilists of all time, and because McGregor has no pro boxing bouts, chances are Mayweather's camp didn't push too hard on the weight issue.
After all, Mayweather took on "Canelo" Alvarez at 154 back in 2013 and won via unanimous decision. That bout may have been pre-prime Alvarez, but "Canelo" could crack then as he can now.
All that aside, Lobov also offered this prediction on the upcoming superfight:
"Conor doesn't just show up for a payday and take a beating. He is in this fight because he knows he can win it. I know he can win this. Not only do I know he can win this, he will win it. I'm 100 percent certain of that.

"He stops him before Round 6 is over. Mark my words."
Consider your words marked Mr. Lobov.