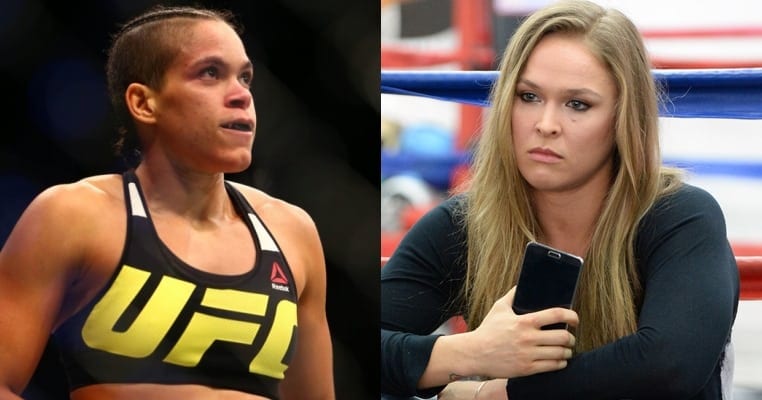 The MMA world continues to fervently discuss the highly anticipated return of former UFC women's bantamweight champion Ronda Rousey, but there remains little to no concrete evidence that "Rowdy" will be back anytime soon.
If and when she does make her way back to the Octagon, Rousey has understandably been promised a title shot against current titleholder Amanda Nunes. The fight has been rumored for December 30's UFC 207, but it's nothing more than a rumor until we hear otherwise from Rousey.
It's probably going to happen at one time or another; it's simply too difficult to imagine Rousey retiring after on brutal knockout loss to Holly Holm, who has since lost two straight fights since beating "Rowdy" for the belt last year. But should "Rowdy" decide to return against the top female bantamweight, her longtime rival Miesha Tate had some words of advice for her during a recent appearance on The MMA Hour, and they were understandably rooted in her vicious UFC 200 submission loss to "The Lioness":
"I feel like there's so many weird variables, it's really, really hard to say, because who knows what we're going to get out of Ronda when she comes back," Tate said. "If we're getting Ronda at the best that she's ever been, then I'd say Ronda (would win the fight).
"But if we're getting Ronda coming back with a half-ass mentality, kind of like 'I just feel like I have to do this one time,' and then she's got a lot of ring rust and maybe she's still punch-shy since she hasn't fought since Holly, and we all saw that obviously Amanda has incredible power with her right hand — so if she hits Ronda with one of those, I could see it being a huge problem for Ronda. A big, big problem."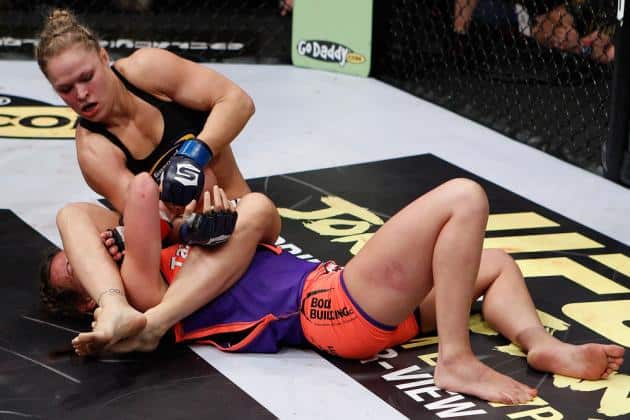 Tate infamously was involved in a long-held rivalry with Rousey that dates back to their first fight in Strikeforce, where Tate lost her bantamweight title to Rousey with a brutal first-round armbar. That vicious, submission-focused machine seems so far gone now, however, and it's hard to imagine Rousey could return to the hunger that drove her back then after so much fame and obligation clearly cut into her athletic career.
"Cupcake" isn't sure like most are not, and that's why she foresees a great amount of uncertainty if Rousey does sign to face Nunes:
"So it's kind of hard to say, honestly. I really just don't know what we're going to get with Ronda. I know what we're going to get with Amanda. I just have no idea what we're going to get with Ronda."
More than kind of hard to say, the MMA community would most likely attest. One thing is for certain, though. Wherever, whenever, and against whomever Rousey does decide to return, it will be one of the most-watched spectacles in UFC history.