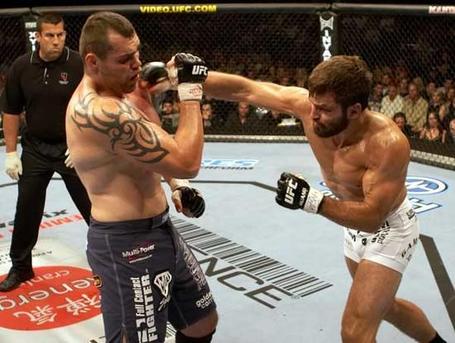 (Which one is the dead horse?)
CagePotato.com has learned that ProElite's second show under its new ownership and management will happen November 5 at the iWireless Center in Moline, Illinois. Although no announcements have been made regarding the event, which is tentatively dubbed "ProElite II" or the show's fight card, according to a published report, former UFC heavyweight champions Tim Sylvia (29-7) and Andrei Arlovski (16-9) are both verified to be on the card, only not against each other just yet.
ProElite had originally planned to hold its next show back in Hawaii, but evidently decided that Illinois was a better fit, considering Arlovski lives and trains two hours west of Moline in Chicago and Sylvia is a part-time police officer in Milan, less than 15 minutes away from the venue.
According to the report, Sylvia will be taking on another former UFC champ instead, Pedro Rizzo (19-9) in the show's main event and Arlovski will square off with journeyman fighter Travis Fulton (247 – 48 – 10 1 NC ).
It's been rumored that ProElite will be staging a heavyweight grand prix starting this year and some are predicting that these somewhat underwhelming matches will make up part of the first-round bracket of the tournament.
Since being released by the UFC in 2008, 35-year-old Sylvia has racked up a somewhat uninspiring 5-3 record including losses to Fedor Emelianenko, Ray Mercer and Abe Wagner. Sources indicate that the former Team Miletich fighter, who defeated Patrick Barrentine (9-6) in his last fight under the Fight Tour banner on August 20, has been quietly preparing for his ProElite debut.
Arlovski's luck hasn't better. The 32-year-old former Belarusian police officer has gone 3-4 outside the Octagon, including four losses in a row to Emelianenko, Brett Rogers, Antonio Silva and Sergei Kharitonov, respectively. In his most recent bout he defeated Ray Lopez (5-3) in "ProElite II's" first show last month in Hawaii.
Rizzo will be riding a three-fight winning streak into the bout with Sylvia, having dispatched Jeff Monson, Gary Goodridge and Ken Shamrock in his three most recent respective bouts. The win over Monson at Bitetti Combat 4 in 2009 snapped a two-fight losing skid. "The Rock" has not been very active the past few years having fought only five times since 2008.
Although he's probably the most experienced opponent Arlovski has faced, Fulton is basically a can-crusher with an inflated record. Arguably his three biggest wins of his career were against Heath Herring, Jason Miller and Joe Riggs. He has made a career out of beating sub .500 opponents and has lost to pretty much every fighter of note he has faced other than the aforementioned three. His loss column includes names like Evan Tanner, Rich Franklin, Eric Pele, Ricco Rodriguez, Chris Tuchscherer, Travis Wiuff, Ben Rothwell, Mike Whitehead, Forrest Griffin, Dan Severn, Renato Sobral, Pete Williams, Vladimir Matyushenko and Brian Gassaway. A loss to him might mean it's time for Arlovski to return to police work or dog training.
Tickets for the show will go on sale this Saturday at 10:00 am CT through Ticketmaster.