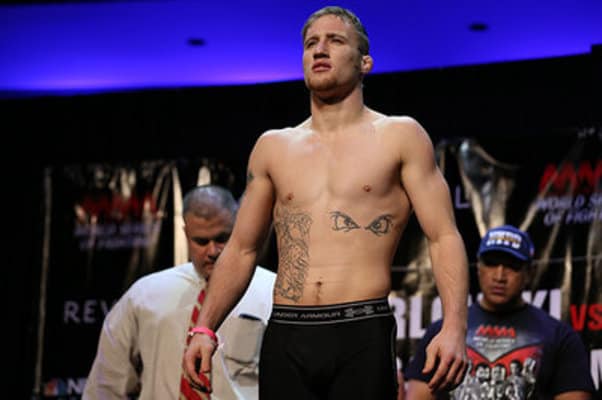 Undefeated World Series of Fighting (WSOF) lightweight champion Justin Gaethje met what may have been his toughest challenge when he threw down against Luis Palomino in the instant classic main event of last night's (Sat., March 28, 2015) WSOF 19 from Phoenix, Arizona.
The bout was a grueling three round affair that saw both Gaethje and Palomino take turns with their powerful offense, with "The Highlight" utilizing his trademark aggressive, pressuring style to bludgeon the experienced challenger. Palomino, who revealed that he broke his right hand during the many heated exchanges of the fight, was able to dole out a significant amount offense of his own, hindering Gaethje's vision with a sharp punch in the second round.
But the champion kept his spotless record intact in the end, hammering the challenger with a barrage of brutal leg kicks that immobilized "Baboon" long enough for Gaethje to score the finish.
It was a thoroughly impressive if not dominant performance for Arizona native Gaethje, who moved to 7-0 in the WSOF with the victory. If he keeps winning fights in spectacular fashion, there's no question that he'll one day have to sign with the UFC to take on the best 155-pound talent in the world.
The former NCAA All-American wrestler said that he thinks he is the best lightweight in the world this week. That's obviously a bold claim that won't be tested until he shows up in the Octagon. He also stated that he wants to eventually move to the UFC, but only if they are willing to pay him the right amount.
But there are some signs that point to Gaethje perhaps being better off staying with WSOF, where he can dominate as the undisputed face of the organization. In the UFC, it's arguable that top-ranked lightweights like Rafael dos Anjos, Khabib Nurmagomedov, Anthony Pettis, and Benson Henderson would easily run through his powerful, but at times sloppy, style.
Gaethje also recently won a split decision against longtime former UFC competitor Melvin Guillard, who couldn't compete in the upper rungs of the UFC lightweight ladder. While he still won, it wasn't the kind of dominance required to be considered a serious threat to dos Anjos or Nurmagomedov.
Palomino was probably his toughest challenge, as it looked he had Gaethje on the ropes more than once. Yet "The Baboon" lost a decision to UFC vet Efrain Escudero in late 2013, and "Hecho en Mexico" hasn't exactly run through the UFC after having been cut twice.
So Gaethje looks dominant, he's exciting, and he's clearly the biggest and best thing the WSOF has going for them. But is that enough to contend with the best lightweights in the UFC, or would he get destroyed upon arrival as other hyped champions in lesser promotions have?
online survey